The Colombo Ride made history in 2008 by being the first Sinhala mobile game to come out. The game was immensely popular and it was enjoyed by all Sri Lankans (it was played by Sri Lankans living abroad too). Then on Independence day 2009, the second version of Colombo Ride was launched.
The second version having the facility of two players being able to play the game against each other. Recently 'Colombo Ride 2.0' was adjudged the 'best in South Asia' at the mBillionth awards held in New Delhi, India.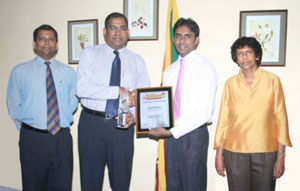 Picture shows W.G.T.Fernando, GTS MD (second from left) receiving the mBillionth award and certificate from Reshan Dewapura (who accepted the award in India on behalf of GTS), Chief Operating Officer of ICTA. Also pictured are Jayantha Fernando (Programme Director, ICTA) and Chitranganie Mubarak (Senior Programme Head - e-Society, ICTA)
Speaking after receiving the award, Gihan Fernando, Managing Director, Gamos Technology Solutions (GTS) said, "It is a great honour in winning at the South Asian awards. We are thrilled to hear that our hard work has paid off and our game has received deserved recognition.
"Being selected a winner from amongst other competitive countries (such as India, Pakistan, Bangladesh, Maldives and Sri Lanka) clearly highlights the pioneering effects that we undertook to create such a creative game for the masses. I am very grateful to our dedicated team that worked on 'Colombo Ride 2.0' and must give out a big thanks to Godage Book Emporium, Ceylon Biscuits Limited (Munchee), HNB Assurance and a number of other companies who backed us with sponsorship deals to make this game a reality," he added in a statement.
It has been some time now since a new version of Colombo Ride has been released. After working thoroughly on an improvement, a new improved version called 'Colombo Ride 3D' has been released.