Outlining the 12-point strategy that brought victory for security forces ending the 30-year old war in the North and East, Defence Secretary Gotabaya Rajapaksa told a packed audience of policy planners, economic experts, members of civil organizations, Central Bank employees, and journalists at the Centre for Banking Studies auditorium on Wednesday that a similar strategy could be applied to gain success in the present day economic management.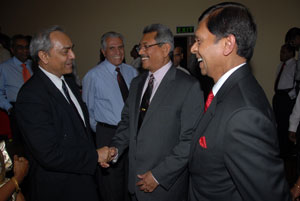 Attorney General Mohan Peiris, Defence Secretary Gotabaya Rajapaksa and Central Bank Governor Ajith Nivard Cabraal at the event.
Executing a plan with a great commitment, discipline, motivation teamwork and follow up action till the attainment of final result under a proper leadership and guidance were in the 12- point war winning strategy, he said. President Mahinda Rajapaksa had a vision to end the war and he gave leadership to this cause with determination taking prompt decisions at the correct time as the commander in chief of the armed forces.
Mr Rajapaksa cited several examples to explain as to how the president had given leadership to win the war personally supervising the achievements of security forces by even visiting the battlefront in the North and East while attending all Security Council meetings. Such practices are very important even in the present economic management, he said.
Analyzing problems and finding solutions in consultations with foreign and local experts, and making preparations to face the challenges of the opponents were the other factors behind the military success, he added. There was a war winning plan which included avoiding civilian casualties, continuation of food and essential services, no-fire zones, restriction of use of heavy weapons, training of the soldiers -- all of this was done to prevent civilian casualties. "The LTTE was using civilians as a human shield to protect them and from the government viewpoint, this was taken seriously and we had to take action to prevent civilian casualties and address the other issues that came up," Mr Rajapaksa said, adding that these actions were taken without antagonizing India. Political stability has also helped to achieve this task, he said.
Referring to the current economic situation under a stable government, he noted that -- in a stamp of confidence for the ongoing development by the business community and the public -- the Urban Development Authority (UDA) debenture issue was oversubscribed. This was an indication of the investor confidence in the present government and the economic resurgence in the island, he added.
This was the first instance a government institution raised a debenture issue and the fact that it was oversubscribed clearly speaks volumes of the confidence the country has for the ongoing development process, he said. Mr Rajapaksa revealed that the UDA will utilise this money for the building of housing and other infrastructure projects as well as slum upgrading in the city. As this was the first Debenture issue by a government institution it also proves that the public is gaining confidence in state institutions as well, he said.