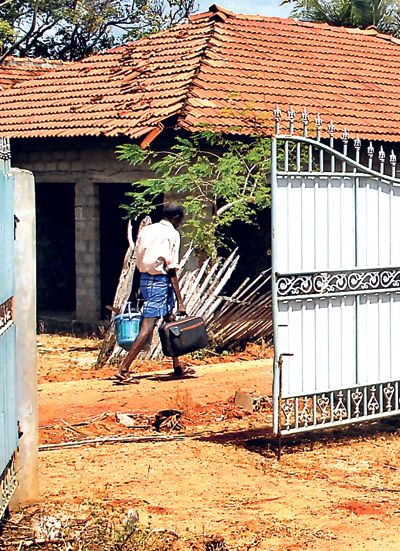 After nearly two years, residents in the Musali Divisional Secretary area in the Mannar district were allowed to resettle in their villages this week. A resident is seen walking with his belongings back to his home. Pic by Sanka Vidanagama
A drape of poetry, nature and culture

Who says exclusivity, class and beauty only come at a high price? Art which is appreciated is its own reward to a talented artist and while there will always be a few big names in any industry who will charge exorbitant prices for their work

,
Harry: 'I was re-offered SLIC'
Business tycoon Harry Jayawardena, smarting from the stinging Supreme Court (SC) judgment on Sri Lanka Insurance Corporation (SLIC), has told directors at SLIC's former parent company Distilleries Company (DCSL),
India hurt by Obama moves
I do not know why but the fact remains that India-America relations are better under the Republicans than the Democrats.
EPF, ETF billions to the rescue

United Nations Secretary General Ban Ki-moon on Friday called to probe "any credible accusations of human rights violations" -- war crimes -- committed during the final phase of the war against separatist Tiger guerrillas, but Sri Lanka yesterday rejected the call.

Powerful new post likely for Gen. Fonseka
The Government is set to release the Syrian flagged MV Captain Ali that is currently detained by the Navy after it illegally crossed into Sri Lanka's territorial waters with a shipment of humanitarian aid meant for the displaced people in the north, Defence Secretary Gotabhaya Rajapaksa said yesterday.
SLIC fraud: Culprits got 'out of jail'
It was just the other day at the Galle Face victory parade that President Mahinda Rajapaksa told the nation that this country could not be betrayed to drugs, corruption and fraud and overwhelming laziness.
They make the world a better place

"When you save a life of a person the contentment is everlasting and you truly feel like a hero. Words are not enough to explain how I feel when I see the four youngsters now enjoying their youth to the fullest," says Thambirajah Vinayagamoorthy.
The strategy of the Malabar army
It was in 1524 A.D., that Vasco da Gama assumed duties as the Viceroy of India. His first duty was to give instructions to destroy the fortress in Colombo and strengthen the building for stores.
MOST VIEWED ARTICLES

LATEST NEWS