It was less than an hour to midnight signalling the dawn of Thursday. Sri Lankan Airlines flight UL 196 had touched down at the Bandaranaike International Airport (BIA) from New Delhi.
Moments after the cabin door connected to the air bridge, weary passengers emerged to walk past equally weary security officials. One of them in a trouser and jacket was greeted by consular officials of the Canadian High Commission in Colombo. They walked him to the Immigration counter and waited for formalities to be completed so he could be driven to a hotel in Colombo.
The visitor was Robert Keith "Bob" Rae, PC, OC, QC, parliamentarian and a Canadian politician. He is the MP for Toronto Centre and sits in the Canadian House of Commons as the Liberal opposition's foreign affairs critic. Rae, who had obtained a visitor visa to Sri Lanka from the country's High Commission in Ottawa, was on a private visit to Colombo. That was after he had ended a similar visit to India. He had made his own programme for meetings in Colombo and High Commission's consular officials were extending courtesies due to a parliamentarian, be it in the opposition or the government.
An Immigration officer looked at Rae's passport. He later withdrew from his station and returned to give him the bad news -- he will not be allowed entry into Sri Lanka. The process had taken almost half an hour. Both Rae and the High Commission officials were dumbfounded. As Rae withdrew beyond the Immigration Desk, officials were busy with their mobile phones. A Foreign Ministry official who was woken up to be told of the news was to call back. He said the Controller of Immigration had ordered that Rae not be allowed entry into Sri Lanka. As more phone calls continued to be made, the Canadian parliamentarian and the officials remained there. He slept at the airport. After their efforts to facilitate Rae's entry past Immigration failed, they helped him board an afternoon London bound flight en route to Toronto.
Contrary to reports that he arrived in Colombo one way, Rae was armed with a return ticket with Emirates Airlines. "We finally got a message saying that if I admitted that I had made statements that were ill-informed or something like that -- and they gave me a thing I could sign -- that they might reconsider the decision," Rae, told Canadian media on the telephone from London. "I said that that's completely Orwellian," Rae was quoted as saying. He claimed he refused to sign any statements.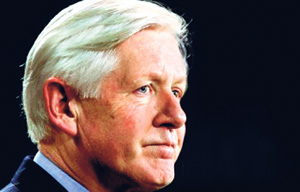 Bob Rae: The airport drama has created a diplomatic row with Canada
Those 12 hours Rae spent at the airport have now become the subject of the latest diplomatic row between Colombo and Ottawa. Only some three weeks earlier, another was resolved. This was after a mob stormed the Canadian High Commission at Gregory's Road, spray painted security cameras and walls to say "Embassy of the LTTE." Later, the Sri Lanka Government extended an apology both in Canada and in Sri Lanka. The Ministry of Foreign Affairs also issued a statement strongly condemning the incident and assured a Police probe was under way.
The reason for debarring Rae's entry became official only after wire service reports. "He is barred from entering the country. He is being deported ……. We have intelligence information that he is supporting the Liberation Tigers of Tamil Eelam (LTTE)," Agence France-Presse (AFP) quoted Immigration Controller P. B. Abeykoon as saying. Similar reports were also moved by other wire services.
Returning to Toronto, Rae e-mailed media outlets in Canada his own response. "To describe me as 'an LTTE supporter,' as an army spokesman has done today, is a lie, pure and simple," Mr. Rae said. The reference again was to wire service reports. He added, "The Sri Lankan government has made this decision because they have apparently reached some ill-conceived and defamatory conclusions about me. But after 30 years of public service at home and abroad, I have to say this decision reflects on them and not on me. I have fought against violence and extremism all my life. Everyone knows that," he said.
"What they now also know is that the government of Sri Lanka is afraid of dialogue, afraid of discussion, afraid of engagement. All I can say is shame on them. If this is how they treat me, imagine how they treat people who can't speak out and who can't make public statements."
A spokesman of the Canadian High Commission in Colombo told The Sunday Times, "he (Rae) was on a valid visa. We reject he is an LTTE supporter. We find that absurd."
Quite justifiably, a Government official, in this case Immigration Controller Abeysinghe, has publicly declared that the reason for refusing Rae's entry was because he was an "LTTE supporter." In doing so, he was not only defending the action taken by his officer at the airport, but also setting out the official position whatever the merits or demerits could be. In marked contrast, the Ministry of Foreign Affairs, the Sri Lankan Government institution that is formally vested with conducting the nation's foreign relations remained stoically silent. This is at a time when news releases on many a mundane issue inundate the media.
The reason for concern over such a Foreign Ministry statement not forthcoming is simple. It is with the blessings of the Foreign Ministry that the Sri Lankan High Commission in Ottawa issued Rae a visa to visit Sri Lanka. In other words, a Canadian parliamentarian now described as a "supporter of the LTTE," the Ministry of Foreign Affairs deemed fit for him to be allowed a private visit to Sri Lanka. Having done that, it took the Immigration Controller to say Rae is debarred since he is a "supporter of the LTTE." The latter's ruling makes clear that no supporter of the LTTE is welcome in Sri Lanka and would be refused entry. Thursday's ruling raises the all important question whether this is new Government policy.
It is all the more significant in the light of apparent contradictions. On the one hand, having won the separatist war, the Government in all eagerness wants to win over those who backed Tiger guerrillas in their separatist military campaign in various ways. This is why President Mahinda Rajapaksa extended an invitation to Tamil Nadu Chief Minister, Muthuvel Karunanidhi, to visit Sri Lanka. It is no secret that Dr. Karunanidhi had blown both hot and cold over the LTTE. This is why the Government is still keen to receive an all-party delegation from Tamil Nadu so they could see for themselves the conditions in the country. The question that begs answer in the light of this is not why Rae was disallowed. It is over why the Government's declared move for reconciliation was marred by allowing the issue to become a diplomatic furore.
It is known in the dovecotes of power that Foreign Minister Rohitha Bogollagama is resisting the tough-line approach by the government, especially in foreign relations vis-à-vis the Defence Ministry approach. Immigration Controller Abeykoon has gone on to cite intelligence reports for his action. Even if the Ministry of Foreign Affairs, which is represented in the National Security Council, seemed unaware of intelligence reports about Rae, it was common knowledge that the Canadian politician was outspoken. Even without such intelligence reports, it was public knowledge that Rae had periodically made strong statements backing the Tiger guerrillas. So much so, there was some evidence in the cyberspace. The Wikipedia, the free, multilingual online encyclopaedia operated by the non-profit Wikimedia Foundation, among other things, has these few lines to say about Bob Rae:
"………Rae was a New Democratic Party (NDP) Member of Parliament from 1978 to 1982. Then he moved to provincial politics, becoming leader of the Ontario New Democratic Party from February 7, 1982 to June 22, 1996. He served as the 21st Premier of Ontario from October 1, 1990 to June 26, 1995, and was the first person to have led a provincial NDP government east of Manitoba.
"While in office, he brought forward a number of initiatives such as the Social Contract that were unpopular with many traditional NDP supporters. Rae's subsequent disagreement with the leftward direction of the NDP led him to resign his membership and join the Liberals. He is known as a supporter of the LTTE (Liberation Tigers of Tamil Eelam), and has supported openly for a separate State for the Tamils in Sri Lanka by dividing the island in to two……."
The Wikipedia account was naturally based on Rae's involvement with Tiger guerrilla activity in Canada. Rae's protagonists admit Some Liberal MPs in the past attended functions at which the LTTE was prominent, and Liberal governments resisted efforts to designate the Tiger guerrillas a terrorist organization. Historically, Sri Lanka had cause to be frustrated by the actions of certain Canadian politicians.
But, some argue that Rae's involvement in Sri Lanka has been benevolent. He has briefed government and rebel negotiators on Canadian federalism and helped oversee constitutional discussions, and he has consistently opposed violence by either side. In 2008, writing in The Globe, he called the LTTE "a merciless armed group ..... engaged in brutal attacks against civilians as well as assassinations of their opponents."
The imbroglio at BIA would have been easily avoided if indeed there was greater understanding on the part of the Ministry of Foreign Affairs. Sri Lanka's missions should have been given the guidelines of any decision that no LTTE supporters would be allowed entry into Sri Lanka. If there was no such decision, then the situation only reflects the chaos that continues in the conduct of Sri Lanka's foreign relations. The result is ad hocism in addressing important issues.
On the one hand, there is a declared policy to reach out to those who backed the LTTE in one way or another to see reality. On the other, there is a move to debar entry to them. In this instance, one could even argue those who publicly advocated for the separation of Sri Lanka are not to be welcomed. In such an event, enforcing that through the country's diplomatic missions was the responsibility of the Ministry of Foreign Affairs. That was by refusing the issue of a visa and stating the reasons for it.
Instead, this was an instance of granting a visa and saying he is welcome. It is only then it comes to light that there is an intelligence report of Rae's connections with the LTTE, a fact that was widely known. When he arrives, he is shown the door. It was only last Monday, the Foreign Ministry turned down a request for a visa by a Canadian Conservative parliamentarian. Deepak Obhrai MP, (who is also Parliamentary Secretary for Foreign Affairs) who had planned to visit refugee camps. He said he was not given a visa or a reason. In this instance, a Foreign Ministry official explained, visits to camps housing IDPs remained restricted. Hence, no special concessions could be made, he said.
It was not just a case of an opposition Canadian MP being turned away from Sri Lanka. The way the Rae episode played out has only gone to unite both the Government and the Opposition in Canada against Sri Lanka. It has also forced the media there to gang up in unison to condemn the expulsion and embark on bitter criticism against Sri Lanka. That is in a country with the largest population of new Tamil Canadians, who were earlier Sri Lankans. That is in a country that had banned the LTTE. After the Government decimated the military capability of the LTTE and wiped out its leadership, Canada last week took measures to prevent any would be immigrants having connections with the guerrillas from entering that country.
In addition to moving agents from the Canadian Security Intelligence Service (CSIS) and the Canada Border Services Agency from their posts in India, the federal immigration department is adding staff to manage the growing backlog of Sri Lankan visa requests. Richard Fadden, the Deputy Citizenship and Immigration Minister, who takes over as head of CSIS on June 27, told MPs on Tuesday that any hint of association to the LTTE would now trigger in-depth screening. "We are insisting that all applications that have any possibility of involvement with the LTTE be referred to secondary review either by CBSA or by CSIS," Mr. Fadden said during an appearance before the House of Commons immigration committee.
The Canadian federal government formally registered its "dismay and displeasure" with the Sri Lankan government over the deportation of Liberal foreign affairs critic Bob Rae. "It is absurd to suggest that Mr. Rae represents a threat to Sri Lankan national security, or is a supporter of LTTE," said Foreign Affairs spokeswoman Emma Welford. "We have registered to the Sri Lankan government our dismay and displeasure concerning this unacceptable treatment of a Canadian parliamentarian. Mr. Rae received consular assistance throughout this ordeal."
Rae said the Sri Lankan High Commission in Ottawa granted him a visa, and he discussed his visit to the country with High Commissioner Daya Perera, and the Foreign Affairs Department in Ottawa.
Canwest News Service reported that a "very upset" Rae telephoned (high commissioner) Perera from the Colombo airport to see what he could do at, what was then, 1:30 a.m. local time in Sri Lanka. The envoy began calling back home to senior government officials, but, at that hour, he could reach no one. "I said, 'I'll do what I can,' " Perera recalled. "I like Mr. Rae. There was nothing I could do about it."
Hopeless
"Perera said the High Commission had no information that Rae was a security threat when it issued him his visa, but he could not reconcile that with the information that his country's immigration officials apparently had. Perera said he planned to convey the Canadian government's concern over the matter to his own, and he hoped that, if Rae was willing, he could meet with him to talk about the incident.
The envoy said he hoped the two countries could put the incident behind them. "Our relationship is far too strong to be broken by this," he said.
In another interview with The Canadian Press, High Commissioner Perera, was quoted as saying it "might have been advisable" to allow Rae into the country to see for himself the aftermath of Sri Lanka's bloody civil war. "The country has nothing to hide," Perera said. Rae had told The Canadian Press that Perera phoned him to apologize for his expulsion.
But High Commissioner Perera, contrary to claims in the Canadian media, had this to relate to The Sunday Times on the telephone from Ottawa. He said "Mr. Rae called me from the airport and told me to intervene in the matter. It was around 1.30 am in Sri Lankan time and it was unfair to contact the officials in Colombo at that time'.
"It is correct that he was initially issued a visa. For this I had obtained clearance from Colombo and it was on that basis a visa was issued to him. However, later based on intelligence reports a decision was taken to cancel the visa and accordingly he was not allowed entry. 'Since the decision was taken there have been protests about the move. Instead of summoning me I received a telephone call from the Foreign Ministry (Canada) which raised objections. I have explained what happened".
"There is no question of an apology as the government has the right to change the decision. There will be no apology regarding this matter. Regarding the proposed visit of a Canadian junior minister (Mr.Obhrai, the Parliamentary Secretary for Foreign Affairs) he said, there was no question of the rejection of a visa, but the mission had been only informed (on June 8), three days prior to his visit and there was not enough time to process it. He said normally Canada takes 14 days to issue a visa, and therefore it was alright to have at least one week to process a visa from the Sri Lankan side.
The mood of the Canadian media was reflected in an editorial in the Globe and Mail. It noted: "the decision by Sri Lanka to turn away Liberal Foreign Affairs Critic Bob Rae is more than an insult to a distinguished Canadian who has worked at some personal risk to end violence in that country, but is an affront to Canada itself, a Commonwealth friend that has supported Sri Lankan peace efforts and which in 2006 strengthened the Sri Lankan government's hand by listing, correctly if belatedly, the Liberation Tigers of Tamil Eelam as a terrorist organization."
Besides the Rae episode, there was other significant activity on the diplomatic front. Japan's special envoy Yasushi Akashi during his 18th official visit to Colombo declared the Government has "lots to do" to improve conditions in camps housing Internally Displaced People (IDPs). "Many people appeared to be undernourished," Mr. Akashi said after his visit. "The water supply is simply enough. I don't say that it is completely satisfactory. Sanitation is one of the areas that need attention," he told a news conference. "I hope there'll be at some point in time a new major attempt for supporting Sri Lanka, for new inputs for peaceful development and rehabilitation, but we have to wait until the dust of the war ... settles down," Akashi said.
Japan, Sri Lanka's largest aid donor, has been a staunch backer of the Mahinda Rajapaksa administration.
Has there been a mood change in the Tokyo government? At the highest levels of the main opposition United National Party, the question seems to linger after a meeting party seniors had with Akashi. Giving further credence to their apprehensions, UNP sources say, is Japan's abstention at the voting at the Geneva-based United Nations Human Rights Council (UNHCR) last month.
The venue of the meeting was Tambapani along Duplication Road, a restaurant known for its Jaffna cuisine. Both Akashi and UNP leader Ranil Wickremesinghe first had a one on one dialogue for ten minutes. Later, joining in were Japan's Ambassador Kunio Takahashi, UNP deputy leader Karu Jayasuriya and Kotte District parliamentarian Ravi Karunanayake.
Over a meal of perattu rice (a buriyani like Jaffna dish with a blend of rice cooked with condiments and mutton), they spoke for nearly two hours.
Now that the war has been won, the Government should not lose the peace, Akashi told Wickremesinghe according to UNP sources. He had said there was an urgent need to come up with a political solution. He had described as very moving the suffering of IDPs in camps in the Wanni. He had underscored the need to end triumphalism and focus on urgent needs.
This week's developments underline the urgent need to prioritise efforts to put Sri Lanka's foreign relations machinery in top gear. None other than President Rajapaksa reflected this need during his address to the nation on Victory Day parade. That would naturally call for a focused, energised Foreign Minister and a Foreign Ministry to project Sri Lanka and not one's own image.