The Foreign Ministry has sent out a circular asking its 59 overseas missions to reduce their housing and accommodation bills by a staggering 50 percent, starting next year.
The circular, issued under the name of Foreign Minister Rohitha Bogollagama, does not differentiate between the residences of ambassadors, other diplomatic staff and home-based officers.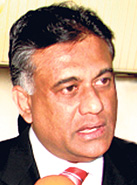 Rohitha Bogollagama
One Sri Lanka ambassador, who is based in Europe and claims to have a direct line to President Mahinda Rajapaksa, is supposed to have told his staff last week that he had no intention of following the circular's directive.
"Obviously, the ministry has to find money from somewhere to pay the Rs. 51 million to cover the foreign minister's travel expenses," the ambassador reportedly told his staff.
A Foreign Ministry source told The Sunday Times that a "five-star hotel syndrome" has been observed every time the minister visits a Western capital. On each of these visits, the minister is accompanied by friends and family members.
Each of the foreign minister's overseas trips costs the state about Rs. 10 million. Direct and indirect expenses include first-class air travel, five-star hotel accommodation, daily subsistence allowances, private limousine rentals, photo and video costs, and bills for fine dining at the most expensive restaurants.
As a senior Sri Lankan envoy wryly put it: "We diplomats have to cut costs so as to keep the foreign minister perpetually airborne." If our overseas missions had to cut their accommodation costs by half, they would have to move to the cheapest rooms at the local YMCA, the envoy added.
There are about 770 employees in Sri Lanka's 59 foreign missions.