Two weeks prior to Major General (Retd) Janaka Perera's assassination he complained to the police that his life was under threat from the LTTE and sought additional police protection, but his plea was ignored, his lawyers said yesterday.
Maj Gen Perera in his complaint to the Anuradhapura SP's office said that on a Supreme Court order prior to the provincial elections he was provided seven police guards, but all of them were withdrawn a week after the elections.
He said, in his complaint, he had reliable information that his life was under threat and some LTTE cadres had infiltrated the Thanthirimale, Vilachchiya and Padaviya areas.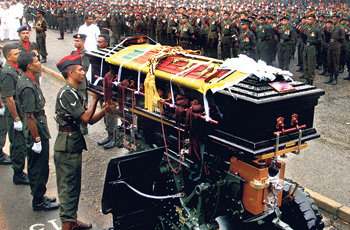 The funerals of Major General (Retd.) Janaka Perera and wife Vajira Perera were held at the Borella cemetery yesterday with full military honours. The hearses carrying the two bodies left the late Major General's residence in Kirullapone at 2.45 p.m. At Polhengoda, UNP frontliners and members joined the procession. A large number of people also joined the procession as it made its way towards the cemetery along Baseline Road. Pic by Gemunu Wellage
In view of the failure to provide additional security, Maj Gen Perera was due to file a Fundamental Rights petition in the Supreme Court this week, seeking additional security on the grounds that his life was under threat, the lawyers said.
Maj Gen Perera had signed the proxy giving permission for the lawyers to go ahead with the petition last week and the petition was prepared by the lawyers to be filed on Tuesday morning. The petition was to cite Defence Secretary Gotabhaya Rajapaksa, Police Chief Jayantha Wickremaratne and Army Commander Sarath Fonseka among others as respondents.
The petition cited reasons for Major General Perera to request for additional security and mentioned names of important persons who provided leadership in the war and were assassinated. The draft petition said that several other persons who were considered a hindrance or had caused harm to the LTTE were killed by the LTTE, even after these persons ceased to hold office.
"… the Government has failed to provide security to the petitioner despite the fact that the General Public of Sri Lanka regard him as a war hero and the LTTE regard him as an enemy who caused heavy defeats both as a soldier and a diplomat and now due to the fact that he holds the political views of the UNP," the petition said.
Maj Gen Perera, in his petition was to seek at least 10 back-up vehicles, 40 police officers in uniform with automatic weapons for the outer ring and backup, clearing of the meeting areas and 10 commandos with automatic weapons.