The Tamil National Alliance has joined the Dravida Munnetra Kazhakam (DMK ) in Tamil Nadu to pressurize the central government in New Delhi to intervene on behalf of Sri Lanka Tamil civilians affected by the ongoing fighting in the north. A three-member delegation from the TNA will hold talks in Chennai next week with DMK leader and Chief Minister Muthuvel Karunanidhi in this regard.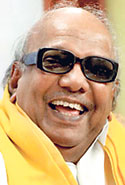 Karunanidhi
Two of them, Mavai Senathiraja and K. Sivajilingam left for Chennai on Friday. They are to first take part in an All Party Conference in Tamil Nadu on Tuesday to discuss the crisis in Sri Lanka.
This conference is to adopt a resolution calling upon the Indian government to intervene directly to protect Tamil civilians affected by the fighting. TNA Parliamentary Group leader R. Sampanthan, the third member of the team, is now in Geneva attending a human rights conference, and will fly to Chennai from there.
Earlier this week Mr. Karunanidhi whose DMK is a constituent partner of the ruling Congress alliance, called upon Indian Prime Minister Manmohan Singh to condemn what he claimed was the genocide of Sri Lankan Tamils.
This demand came in the wake of Sri Lanka's Deputy High Commissioner Palitha Ganegoda being summoned by India's National Security Advisor M.K. Narayanan to be told of India's "grave concern and unhappiness" at what he called growing casualties of Tamil civilians in the ongoing military offensive. In this backdrop, President Mahinda Rajapaksa told a hurriedly summoned All- Party Conference yesterday that problems faced by the Tamil community would soon be resolved.
Referring to them as "our brothers and sisters in the North," he said "all hardships faced temporarily" would be brought to an end. He asserted that there was no military solution to political questions. However, he insisted that the LTTE should lay down arms and enter the democratic process. The APC was held at Temple Trees. The main opposition UNP and the JVP did not take part. The TNA was not invited.
K. Thurairatnasingham, TNA parliamentarian for Trincomalee district, told The Sunday Times the TNA delegation would seek a meeting with Premier Singh.