World Children's Day was celebrated on October 1 in the metro area on a grand scale, But for children outside the capital it had hardly any significance. Both children and mothers await eagerly thre basic health facilities that are due to them via health care and children's nutrition through the Family Health Service.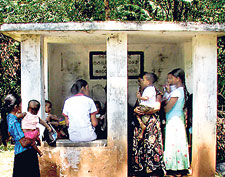 In the absence of a community centre an abandoned bus halt serves as the place for medical clinics are held
Sadly these benefits have not reached remote villages like Rambukoluwa in the Laggala Divisional Secretariat area.
Though crude methods of checking the weight of children on a balance hung to a nearby tree may sound strange to townfolk, it is commonplace in distant villages. Since no officials visit these areas due to a lack of transport it is little wonder that one sees children and adults being weighed on spring balances hanging from trees.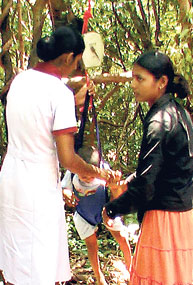 A child being weighed on a balance hung from a tree.
A young woman A. G. Chandrakanthi detailed the difficulties faced by the people of her village. There is no motorable road. Resultantly no public transport is available. The only mode of transport is walking. She said no community centre was available for villagers to discuss social issues which affected their lives.
The village school conducts classes only up to Grade V and children are forced to travel to the Laggala Pallegama MMV which is 11 km away, to continue their education. In most cases education ceases at Grade V.
Those who can afford to, keep their children with relatives who are better off and live in Laggala to continue their education.
For the rest, there is little hope…Without an education these children face a bleak future - "Hewers of wood and drawers of water" for the rich and powerful of this land.