Thirty-six-year-old R.A. Ananda Chandrasiri and 35-year-old Chandralatha are from Norochcholai. Recently Chandralatha gave birth to triplets whom the parents named Malilsha, Manisha and Mabisha. The couple also have two other girls - Chamila aged nine, a grade four student and Premila aged 5.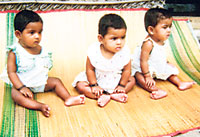 The triplets
The family lives on a coconut estate where Chandrasiri earns a paltry Rs. 250/- a day. In an effort to ease his ever increasing financial problems which increased with the birth of his triplet daughters, Chandrasiri applied to the Pradeshiya Sabha for help. However, his efforts were unsuccessful and he now seeks help from the general public.
A few individuals have expressed readiness to help the family on condition that the children be given to them to be brought up. However neither Chandralatha nor her husband are prepared to give their children away.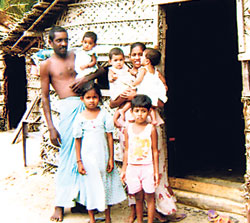 The family in front of their home.
In the meantime Kalpitiya Deputy Inspector of Health has promised to provide milk food for the little ones
Despite this promise of help, the parents do not have the means to provide for their five children and seek help from the public.The contact address of the family is as follows: R.A. Ananda Chandrasiri, c/o Niyaz shop, Kossawadiya Norochcholai