Villagers in Inginiyagala, Ampara are living in fear of the police as police officers are said to be arresting persons and beating them up before releasing them.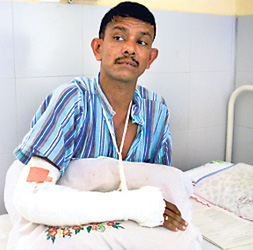 Sergeant H.M.Samarasinghe
One such incident occurred last Thursday when Sergeant H.M.Samarasinghe of the Signal Corps of the Kondavattawan Army camp finished his duties around 8 p.m. and walked through the ali-oluwa bridge where he had met a friend who had applied to join the Navy.
According to him, a police jeep had suddenly stopped near them and police officers in civvies had ordered them to go into their houses. As he entered his house he heard shots being fired and immediately he left his house and walked in the direction from where the sound came, he said.
He said the police had then arrested him and taken him to the police station. He was then beaten up by police officers, who gave a deaf ear to his pleas, he said. Later the police had said his arrest was a mistake and forced him to sign a blank document, which he was compelled to do. He was later dropped by the bridge and he then got himself admitted to the hospital with several injuries, the sergeant said.
Several such incidents have been reported where arrests made by the Inginiyagala police have later been proved to be of innocent persons.