One of the three wild elephants that were terrorising villages in Mirigama, Giriulla and Alawwa was captured by residents at Polkotukanda, in Alawwa, on Friday and despatched to the Somawathiya jungle reservation area.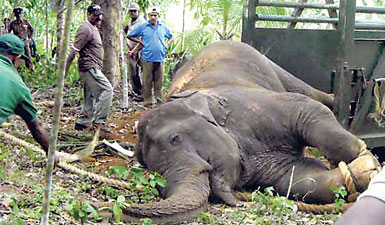 Wildlife officials struggling to get animal into lorry
The elephant was caught on Thursday at about noon, tied to a tree and anaesthetised by wild life experts, working under the supervision of Dr. Tharak Prasad, deputy director of the Department of Wildlife Conservation. The team struggled till evening to get the animal into the lorry that took it to its new home.
Pradeshiya Sabha secretary W. Kamburugamuwa was among those present who helped in the elephant relocation effort.