In the wake of a landmark Supreme Court judgment, the government will acquire a plot of land which was allocated to a private company known as Lifestyle Health Services (Pvt) Ltd during the regime of former President Chandrika Bandaranaike Kumaratunga, Urban Development Minister Dinesh Gunawardene said yesterday.
The Supreme Court ruling on the Waters Edge land deal ordered the Bribery Commission to investigate the transaction with Lifestyle Health Services as well.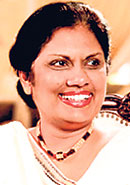 Kumaratunga
The 188-perch land at Narahenpita had been allocated to Ms. Kumaratunga's personal physiotherapist, Australian Mike Chomley, in 2000 for a Board of Investment (BOI) project. However, the project had been delayed after lease payment was not made in time.
The land in question is located down Kirimandala Mawatha in Narahenpita in close proximity to the Narahenpita golf course.Meanwhile, Bribery and Corruption Commission Chairman Ameer Ismail said the commission was taking steps to investigate the Waters Edge transaction and the role of nine respondents, including Ms. Kumarautnga.
He said the commission had called for a copy of Supreme Court judgment and would study it fully before deciding on the next step.
The Supreme Court on Wednesday held that some 225 perches of land had been illegally provided by the UDA for a Golf Course project in Battaramulla.
The Court directed that the Bribery and Corruption Commission should probe the actions of former President Kumaratunga, her friend Ronnie Peiris, the UDA, Asia Pacific Golf Course Ltd, the Board of Investment, Shantha Elroy Godwin Wijesinghe, Siva Selvaratnam and S. Gressel Selvaratnam.