Reports from the Wanni indicate that, with the onset of monsoon rains expected later this month, temporary shelters for displaced civilians in the district have become a most urgent requirement.
Government officials in the area are struggling to provide IDPs in the area with basic facilities as more than 50% of them are without proper housing or toilet facilities.
Due to heavy fighting between government forces and the LTTE, most residents in the area do not stay at home during the night. Many families return home during the day to collect goods from homes or gardens and return to shelters before nightfall.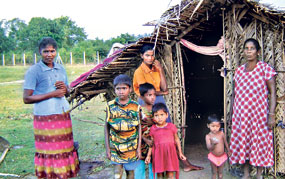 File photo : A displaced family
The Kilinochchi town today is deserted with residents moving away from areas where fighting is taking place. Continuous battles last week delayed food convoys into Kilinochchi. A lorry-load of medicine too was among items which have been held up at Omanthai since last Tuesday.
Many units of the Kilinochchi hospital too have been shifted to Dharmapuram. Several government institutions including the Government Agent's office at Kandavalai are functioning at temporary places while banks have relocated to Dharmapuram.
Meanwhile the Government Agent Kilinochchi held a meeting at his temporary office at Kandavalai last week with several INGO representatives where he thanked INGOs for their work during this difficult period.
He requested all local staff to continue their activities in the area. Many INGOs are presently engaged in providing and setting up temporary shelters. Several of the organisations present promised to assist in the setting up of shelters. These organisations are also engaged in assisting the setting up of temporary schools and in the provision of school kits for displaced students.
T. Kurukularajah the Zonal Director of Education in Kilinochchi, released a list of essential goods for the displaced. He has said 26,168 students have been displaced so far and there was a need for a further 125 temporary sheds. Of this number at least 40 temporary sheds need to be constructed immediately.
He added there was an urgent need for 480 tarpaulins to divide the 40 sheds into classrooms while another 200 sheets were needed as roofing. At least 100 urinals for males and 100 toilets for girls were also urgently required he said.
The Zonal Director of Education added he required blackboards, chalk, mats for the children to sit, 400 plastic buckets, spoons and plates to supply food to the students. Sixty out of the 70 Zonal education officers in Kilinochchi are also displaced and fuel is needed to provide them transport facilities.
Fifty-five of the relocated schools have been integrated with 28 permanent schools while some schools are functioning independently.
Temporary shelters are needed to provide living quarters for principals and teachers of the relocated schools to ensure the schools continue to function. It is reported that several persons have also fallen victim to snake bite. Last week a four-year-old child Muthiya Anushiya is reported to have died of snake bite.