In the final analysis it was a soft target for the suicide bomber. On Monday, he walked into a tiny compound with a single gate that was wide open. There were no policemen nor any other guards, government or otherwise present.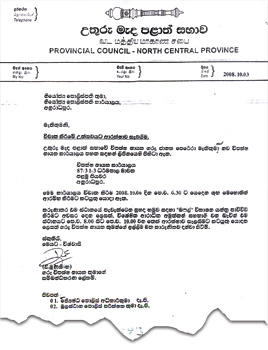 Letter sent by Janaka Perera's secretary seeking police protection and permission to use loudspeakers for the event
Although mystery surrounds the killer, and his motive for blowing himself up along with the former war hero Major General Janaka Perera and 28 others, one thing is clear, the assassin had the easiest of accesses to unsuspecting victims who had gathered for the opening of a new office of the main opposition UNP.
Different people hold different versions of the events that led to Monday's bloody mayhem. While the UNP and the government are blaming each other, many believe that the incident could have been averted if there had been proper security in place.
The UNP has accused the authorities of failing to provide even a single policeman at the venue even though the party had made a request for security three days in advance.UNP frontliner Gamini Jayawickrema Perera told The Sunday Times that they had made a request for security in a letter sent to the NCP Police Chief DIG, K. P. Pathirana and dismissed police claims that they were not aware of the event.
DIG Pathirana refuted the opposition charges and said several police officers had been detailed to the area to help out in the traffic arrangements. He added that two special police teams are probing the attack and nearly 60 people had already been questioned.
"Our main task now is to identify the alleged suicide bomber and we are going through some visuals captured by the MTV journalist, moments before he himself was killed in the blast," DIG Pathirana said.
"The alleged bomber is faintly visible in the visual and we have sought the assistance of an expert from the Criminal Records Office to improve on it so that we can get an identity sketch. This should be completed in a day or two," he said.
Rizwi Mahroof is probably one of the people most affected by this tragedy. He lost his only sister, brother and brother-in-law and is now saddled with the responsibility of bringing up three orphans, a young widow while taking care of his parents and his own family.
Mr. Mahroof a one-time close associate and aide to the fallen Major General told The Sunday Times on receiving a phone call about the incident, he had rushed to the hospital where the doctors told him about the fate of his brother.
"I then rushed to the scene. It was chaotic. Blood and human parts were strewn all over the place. Everyone seemed to be dead or dying, and that is how I discovered my other family members. They were all dead," he said.
His sister-Sithi Jezima seemed to have been at the wrong place at the wrong time. A full-time mother and housewife she hardly ventured out of her home and never got involved in politics although her husband A.C.S. Hameed was an active member of the UNP in the Anuradhapura district.
"On this particular day she had intended visiting a closeby convent school but her husband persuaded her otherwise and asked her to accompany him to the meeting at least for a few moments.
Moments before the blast: Razmi at the scene (left) and (right) Janaka Perera and wife, Dr. Johnpulle and wife declaring open the office.
She would have been alive today if the late Major General had not insisted the couple stay on and partake of some milk rice and sweetmeats. "It was then that tragedy struck," Mr. Mahroof said.
His 31-year-old younger brother Razmi was a TV journalist with the MTV group and was recording the event when he too was caught in the blast. A single pellet had pierced his heart and apart from that there were no other injuries visible on his body, Mr. Mahroof, also a journalist for some 18 years said.
Ironically Mr. Hameed's father was killed in the LTTE attack at Anuradhpaura in 1985 and his brother too was slain by the separatists while serving as an AGA in Muttur two years later.
At the time of his death Mr. Hameed was the President of the Lawyer's Association, and an Acting Magistrate. He was also the former President of Bar Association of Anuradhapura.
In the village of Katukeliyawa a household is mourning the untimely death of their 65-year-old father-a well known ayurvedic doctor with a practice spanning over 45 years. Known as Subasinghe Vedamathaya, he was invited to the meeting by Dr. Rajah Johnpulle. The two had been long time friends.
On arriving at the venue, the mild mannered Vedamahathaya took a seat in the last line of chairs, only to be waved on to the front row by his old friend Dr. Johnpulle, S.M.R.Gunasekera -the eldest of his two sons quoted survivors as saying.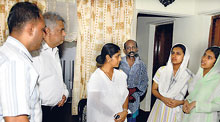 After the tragedy: Lto R:Rizwi Mahroof, Opposition leader Ranil Wickremesinghe, Chandrani Bandara, Anuradhpura UNP MP and two of Hameed's orphaned daughters
"My father would have probably survived if he had remained in the back row," Mr. Gunasekera further said. "Now when I recollect, there were several bad omens as my father was getting ready to leave for the meeting. First of all his transport (a motorcycle) that was to take him to the venue did not turn up and later the scheduled village bus also arrived late, which irritated him," Mr. Gunasekera said.
"Now I feel that those were bad signs and we should have heeded them at that time and tried to persuade him to stay back. Anyway it is now too late to repent," the grieving son said. Upali a survivor of the attack told The Sunday Times that the late Major General's wife Vajira Perera was alive for a short while after the attack.
"She had lost one eye and was muttering something while I was screaming for someone to fetch an ambulance to try to get her to hospital, but moments later her body went stiff in my arms", a staunch UNP supporter and close confidant of the slain couple said.
And then there is the story of the personal driver to the late Mrs. Perera who had sneaked out of the meeting for a quick cigarette since he was instructed to get ready for the drive back to Colombo soon after the event was over. Knowing it will be several hours before he could have a puff again the man had gone out for a smoke, he was later to tell survivors and friends. The cigarette had probably saved him.
But on Thursday thousands of people put aside their party affiliations to pay their last respects to a man known to them not only as a politician but more as a war hero who fought bravely to protect the motherland.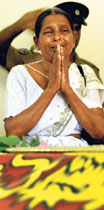 A mourner in Anuradhapura grieves over the slain Major General Janaka Perera.
Udaya Deshapriya- a former PA Provincial Councillor said that it was well known that the late Major General had become immensely popular in the NCP in a short period and that was why he was able to garner the largest number of preferential votes at the last election.
"He was brave, honest, and straight forward with a zero tolerance for thuggery, corruption and other ill-doings. He should have been around for much longer," Mr. Deshapriya lamented.
But it was not to be, for yesterday the late Major General Janaka Perera and his wife Vajira, also a an army officer made their final journey from their modest home in Kirulapone to the general cemetery in Borella where their remains were cremated amidst a large and distinguished gathering.
Slain journalist's visuals help probe
Police investigating the killing of Major General (Retd.) Janaka Perera have spoken to about 60 people and are currently trying to establish the bomber's identity with the help of experts from the Police Records Office, a senior policeman said yesterday.
North Central Province Senior DIG K.P.P. Pathirana told The Sunday Times that those questioned were from the districts of Anuradhapura and Kurunegala and they were mostly Sinhalese and Tamils.
"Our main task is to identify the alleged suicide bomber and we are going through some visuals captured by the MTV journalist Rashmi Mahroof moments before he himself was killed in the blast," DIG Pathirana said.
"The alleged bomber is faintly visible in the visual and we have sought the assistance of an expert from the Police Records Office to improve on it so that we can get an identity sketch. This should be completed in a day or two," he said.
Police have also started talking to a key eye witness who is reported to have had a face-to-face confrontation with the alleged bomber, seconds before the explosion, he said.
Some eye witnesses who were shown the visual have already confirmed that the man in the picture clad in a light green t shirt and black shorts was the alleged bomber and that he was not known to be from the area, sources said.
Two special police teams have already been assigned to investigate the attack.