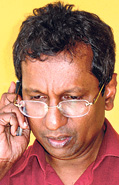 Attorney-at-Law J.C.Weliamuna
At a special general meeting held yesterday evening the Bar Association of Sri Lanka (BASL) unanimously passed a resolution condemning the grenade attack on the residence of Attorney-at-Law J.C.Weliamuna, and demanded a speedy and impartial inquiry to bring the perpetrators to justice.
The resolution was proposed by BASL president W. Dayaratne and seconded by vice president Mohan Pieris.
The resolution called upon the President, the Government, the Opposition, the Inspector General of Police and all other relevant functionaries and authorities of the State to take meaningful and effective steps to have the perpetrators brought to justice and to prevent any future recurrence of attempted intimidation against any member of the legal profession.
"The BASL will not tolerate or countenance threatening actions/conduct at anytime or in anyway, against any member of the BASL and will not hesitate to take appropriate action or measures in respect of such unlawful act, the resolution states adding that the President of the Bar Association forthwith calls upon the Inspector General of Police to intimate in writing what steps have been taken to have this matter investigated, expeditiously," the resolution said.