TMVP leader and UPFA MP Vinayagamoorthi Muralitharan alias Karuna yesterday ordered his remaining cadres who are still carrying weapons to either join the Civil Defence Force or else disarm and go home.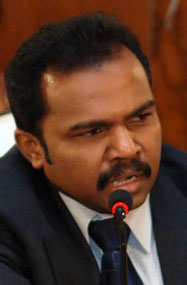 Vinayagamoorthi Muralitharan
Mr. Muralitharan told The Sunday Times that he had obtained permission from President Mahinda Rajapaksa to absorb his cadres into the Civil Defence Force (CDF) in a bid to quell suspicion in the South and elsewhere on the activities of the TMVP cadres who are still holding on to weapons in the Eastern province.
This move will allow the TMVP cadres to remain protected from possible LTTE and other attacks while at the same time serving in a legitimate force such as the CDF.
"Thereafter they could show commitment and discipline and serve the Government in a democratic manner," he said.
At present a large number of TMVP cadres are undergoing rehabilitation at many centres throughout the East before being provided with employment both in the country and overseas.
Apart from them there are an estimated 1,200 armed TMVP cadres throughout the Eastern province.
The TMVP insists its cadres should remain armed since there was always a threat from the LTTE and other rivals.