The shutterbug experience
View(s):

For the young photographers at The Revolution Portfolio it's all about learning on the job

By Duvindi Illankoon

The Revolution Portfolio is the photographic equivalent of Abraham Lincoln's famous catchphrase; by young photographers, of young photographers and for young photographers, the organisation was set up just a year ago by a group of teenagers bitten by the shutterbug.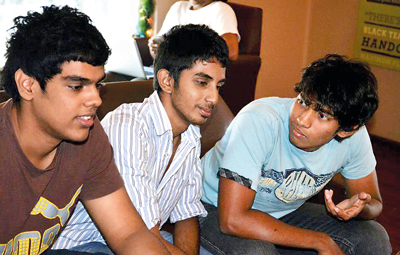 Shadir Hisham, 17, is the founder of Revolution Portfolio. Together with Ihthi Fahim and Malin Rodrigo, Shadir is the dynamic driving force behind the organisation which he hopes to form into a company one day. As young photography enthusiasts, the three students realised that there were very few industry professionals who were willing to share their knowledge of the craft with others. "So we thought why not set up our own support system?" says Shadir. Revolution Portfolio is a network of young photographers who work together to go forward in their field.
It's a very small set up at present, with just 15 teenaged photographers running the fort with limited resources. "To join us, you've got to show commitment and enthusiasm," advises Fahim. "If you've got the passion, we'll help you gain exposure and learn from experience." 
The set-up works in a very practical environment. The young photography enthusiasts are given the opportunity to enter events as photographers, where they take pictures to their hearts content. Handpicked photographs are then uploaded onto the group's Facebook page for public viewing.
"On the job you learn a lot," says Malin. "It's easy to get a shiny new camera and take a few pictures of your friends, but to be a professional you have to experience event photography and other shoots." This is what Revolution Portfolio facilitates. In addition to event photography, they've also expanded into product photography, doing photo shoots for various companies and bands in Colombo. 
They've covered events like 'Run For Their Lives', 'Cancer Walk', and Interact functions and have also organised photo shoots for bands like 'The Castaways'. Eventually Shadir hopes to offer a full portfolio of entertainment services including event planning and advertising.
But right now though, they're fully focussed on the shutterbug experience. Funding for their activities come from personal sources, with the boys holding bake sales and saving up monthly 'pocket money allowances' (they laugh uproariously at this) to buy the equipment needed to develop and print their pictures. 
The young photographers are very much open to new membership or sponsors, so if you'd like to contact them email revolutionportfolio@hotmail.com or visit their Facebook page on www.facebook.com/revolutionportfolio
Follow @timesonlinelk
comments powered by

Disqus