Highlighting issues through video
View(s):

As a socially conscious young filmmaker Azahn Munas uses this powerful medium to highlight good causes

For 19 year old Azahn Munas film making is a passion. Having moved with his family to Australia when he was a pre-teen. His love affair with filmmaking began when he was gifted a video camera by his parents.
"My brother and I would make these ridiculously long videos and horror movies," he laughs.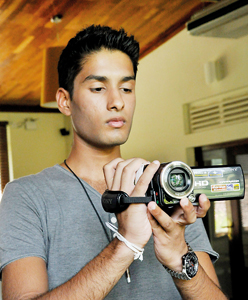 "It was nuts! Then we'd force everyone we knew to sit through them." In high school, he started entering local competitions and even made it into national level. He sat for his Victorian Certificate of Education (Australian equivalent of AL's) in Media.
It was during this time that he started making socially conscious videos and sharing them on his YouTube and Vimeo pages. Recognising how powerful the medium of film making could be, Azahn decided to direct his talent towards some fantastic causes.
His video for 'Shine Bright', a Breast Cancer Awareness initiative helped the campaign raise AUD 10,000 for the National Breast Cancer Foundation in Australia. 'Got Milk? Stop cruelty. Demand Protection' was made in response to the cruel and inhumane nature Australian dairy cows were subjected to in Middle Eastern countries. 'Spread the Word' was filmed for Lady Gaga's Born This Way foundation.
It was 'Drive Safe: Call Me? Maybe…' that propelled him into the spotlight. The video was made following the 2012 deaths of two friends, who were in a vehicle accident due to being distracted by mobile phones. "75 per cent of us think we can handle our mobile phones while driving.
Think again," says the video, which documents a jarring transition from mobile web surfing to a road accident. The video was picked up by an ABC affiliated US Network as part of a feature on safe driving called 'The Great Hang Up'.
"It was pretty surreal being contacted by these people and asked for permission for them to use my video," says Azahn. "I felt like my work was finally being recognised." He adds that it is important to keep pushing for your work to be recognised if you're an aspiring filmmaker. "I've literally sent thousands of emails to different people and organisations. Not all of them will get back to you, but at least one person will. You can't just sit back and expect your work to be talent scouted no matter how good you are."
Azahn is currently at the Royal Melbourne Institute of Technology, where he studied for a Bachelor in Film and Television before transferring to study Commercial Advertising. Right now, he's got no definite plans as such for what he'll do with his life-all he knows is that he wants to keep capturing life on video. "Maybe I'll go into the advertising side of things," he says. "Who knows? But my handy cam and laptop will definitely be major players in whatever I do."
Follow @timesonlinelk
comments powered by

Disqus