SLIIT to launch UGC approved Engineering degrees
View(s):

Pix by Anusha de Silva

SLIIT launched the University Grants Commission (UGC) approved Engineering degree programme to be offered by a non-state sector institute for the first time in Sri Lanka at a prestigious event held at Cinnamon Grand on the 16th January 2013. Chief Guest at the launch was Hon. Minister S. B. Dissanayake, and Guest of Honour Hon. Minister Johnston Fernando.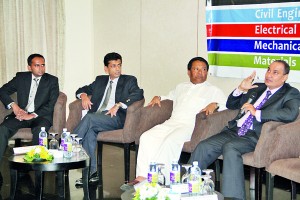 SLIIT, the largest degree awarding institute outside the state sector has diversified its academic programmes to include the engineering degree programme. SLIIT is the only non-state higher education institute in Sri Lanka that has been granted UGC approval for Engineering degrees. The institute is also a member of the prestigious Association of Commonwealth Universities. SLIIT will be offering Engineering degrees in the following specializations; Civil Engineering, Electrical & Electronic Engineering, Mechanical Engineering and Materials Engineering. The institute also conducts engineering programs with long-standing academic partners Curtin University – Australia and Sheffield Hallam University – UK.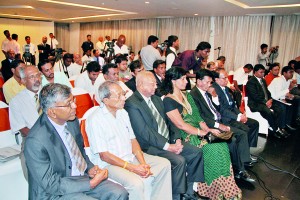 "With large scale infrastructure investments and project development in the country in both the private industry and the government sector, there is a growing demand for engineering professionals" states Professor Lalith Gamage, President and CEO of SLIIT. "We feel that the introduction of this degree programme is timely in filling a much-needed gap for highly qualified engineers with sound practical knowledge in the country. As SLIIT will always have its finger on the pulse of Sri Lanka's tertiary education needs, now is the time to respond and begin our UGC approved engineering degree programme at our newest faculty, the Faculty of Engineering.
He further notes that "This degree programme allows students to leverage a host of opportunities made available to them through SLIIT's collaborative networks with both academia and the local industry. We aim to provide pathways which maximise students' employment and career potential as graduates while providing the relevant industries with professionals who can demonstrate and apply their skills and expertise in this sector".
Speaking at this event Professor S. Karunaratne, Chairman of SLIIT said, "In days gone by engineering was not considered a 'learned profession'. In a way, I am not grieved that engineering
was not included as a 'learned profession'. Engineering is the profession which creates wealth for mankind. Innovation in engineering is unprecedented. New engineering knowledge replaces old knowledge increasingly fast. An engineering professional must be a person who is willing to learn and keep himself up-to-date vis-a-vis the advances in engineering. This is the reason why engineering could aptly be described as a 'learning profession' rather than a 'learned profession'.
Professor Karunaratne further notes that "SLIIT has made a break-though in Information Technology by producing 6,000 graduates and 12,000 IT professionals over the last decade to serve our nation. We hope to parallel this achievement in engineering in the near future".
Engineering students at SLIIT will be exposed to advanced engineering skills as demanded by industry. Development of design skills as well as soft skills are key features of this programme. This will arm students with the tools to apply these skills to make them well rounded graduate engineers. The course content is designed and developed in collaboration with industry. supported by a highly qualified teaching faculty. It is a well-focused programme accredited on UGC quality assurance standards and based on the Washington Accord guidelines for Engineering. The faculty comprises dedicated and highly qualified in house staff. In addition, senior staff from state universities and industry experts serve on a visiting basis.
SLIITs newly constructed state-of-the-art Engineering faculty building comprises, within 75,000 sqft, modern well-equipped laboratories, lecture halls, design studios, and a dedicated )
library, encompassing an unparalleled teaching and learning environment for students.
SLIIT is a prestigious internationally affiliated educational institute in Sri Lanka, which to date has produced over 18,000 professionals to the relevant industries. These exceptionally skilled graduates have made their mark on the Business, IT and Engineering landscape of Sri Lanka, armed with the skills and knowledge from the high calibre education opportunities made available at SLIIT. More details can be obtained by visiting www.sliit.lk
Follow @timesonlinelk
comments powered by

Disqus