Another success story of IIT- Lishan Wickramanayake, Director, Prasanna Batiks
View(s):

Renowned for its comprehensive, well rounded education, the Informatics Institute of Technology ( IIT-www.iit.ac.lk) courses are geared to prepare students with practical knowhow and the skills necessary for their careers in the real world, be it in the fields of business or IT. This has led to many of their students becoming well known leaders and entrepreneurs in their chosen professions that had built successful business entities, which has gained recognition in both local and international markets. 

One such personality is Lishan Wickramanayake, who having engaged in his higher education at IIT attributes much of his practical knowledge and innovative ability to the lessons he learned at the Institute.

Currently a Director of Prasanna Batiks , he has turned his family business into a successful venture which has revolutionized the local Batik industry. Prasanna Batiks today is well known for the glamour and beauty of its creations ,which has aggressively penetrated the local and international markets making it a huge success and a fashion  statement amongst many discerning entities. With garments that are especially meant to meet the needs of all ages and different tastes, Prasanna Batiks dedication to innovation, designing and uniqueness coupled with quality gives them the competitive edge over other batik products in the market. Each piece produced is a unique work of batik art and their products rangers from garments to household materials such as table clothes, bedspreads and wall pictures. Currently marketing their products to China, Malaysia, Japan, Maldives and Dubai, they also have three local outlets in Pettah, Majestic City and Wellampitiya.

Speaking of his success in the industry , Lishan attributed the knowledge he had gained at IIT , that included the right kind of soft skills required for business world today and the experience he had received during the much acclaimed placement year, which is the third year of a student's study at IIT, as having been greatly beneficial to him, in running the family business.

He pointed out that "The study courses at IIT encompass a wide range of skills that most organizations find to be integral and necessary part of everyday business. From basic communication skills to strategic management, they offer a gamut of skills such as team management, time management, presentation skills development that are in-grained within their curriculum, which has helped many students including myself to stay competitive in today's environment. We were also given an insight as to how organizations kept up with the current market trends and were taught many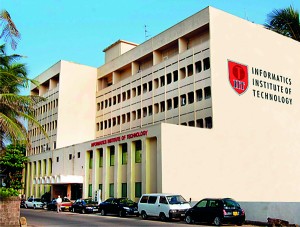 international and local case studies. Some of these included case studies on how Kellogs did their market positioning, and the manner in which Ceylon Cold stores revamped themselves to be the success they are today. Understanding these methodologies and practices adopted in these scenarios provided me with valuable guidelines on how I should use such knowledge and apply it in the practical context in my business."
Elaborating further Lishan said that they were fortunate to have knowledgeable lecturers from the industry, to offer insight into industry specifics and share their practical experiences , which added a lot of value to what they were learning. He explained that "Exposure to top industries and the cream of the industry professionals sharing their knowledge has been highly beneficial. Lecturers also take time to really understand the student's capabilities and encourage them to arrive at their own conclusions and strategies through careful guidance. Building confidence, analyzing situations and taking appropriate decisions with courage of conviction are all very important for a successful business life. I learned all of these at IIT ". Lishan affirmed that such guidance helped hone his entrepreneual skills leading him to re- launch Prasanna Batiks by using the knowledge he gained from IIT in marketing, and modern business strategies and to take the organization to greater heights in today's competitive business and marketing environment
Lishan also stated that at IIT much thought and preparation goes into the making of the curriculum and study plan. Each course consists of relevant subject areas that addresses even the most minute details, thereby ensuring that the student has a well rounded education that include all the necessary information at their fingertips." It is this kind of knowledge ,dedication and experience by the institute that Lishan, believes gives IIT students a distinct advantage when it comes to their careers.
Lishan concluded by saying "IIT is unique because they understand that getting to the future is never a linear event. They have the wonderful ability to encourage our insight, intuition and experience to take us forward into our desired futures in a successful manner. They also really gear us on how we can cope with the rapid, continuing changes in the future and make us prepare to face the challenges. I would wholeheartedly endorse IIT to any student who wants to make a mark in their chosen industry and to build a successful career".
LISHAN WICKRAMANAYAKE
Web: www.iit.ac.lk email: admissions@iit.ac.lk hotline: 0722 72 72 72
Follow @timesonlinelk
comments powered by

Disqus