Gateway's Navidu wins South Asia's top award
View(s):

Navidu Samarakkodi, student of Gateway College, was a winner of Horlicks Wizkids 2012. Horlicks Wizkids is an annual event organized by EduMedia India in partnership with KrayOn Events, and defines itself as "a search for the most outstanding students of South Asia. It is a unique personality contest that recognizes students' overall balance of character, and competence".

Navidu's prize included a 10-day educational trip to South Africa, as well as a scholarship of 100,000 (INR). He also won the title of the 'Most Popular Student', where over 80% of the participants had voted for him in a poll including 'Who do you think should win Wizkids 2012?'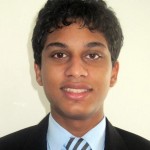 This time, it saw the participation of over 200,000 students from schools across South Asia, who were first nominated and chosen at school level, and then at city level, where traditionally 2 students would be chosen to represent their city at the South Asian Finals, which were held from the 16th – 20th December 2012, in Bangalore, India. Following a dynamic application form and interview, focusing on criteria including academic, extracurricular and athletic achievements, leadership, personality tests, questions based on justified opinions and judgmental skills, as well as a self-initiated social service project, Navidu Samarakkodi was the only student chosen to represent Sri Lanka at the finals – on full scholarship.
Navidu initiated the 'Education For All', a social project that aims at providing underprivileged individuals of all walks of life, the right to education with no segregation. He says, "Its project requirement provided us with the opportunity to actually put into practice what we otherwise learn in theory – diplomacy, communication skills, being professional, and coming up with ideas to solve global issues; in real life."
Initially, it was known as the 'Double-E Project: Educating Elders', where the Victoria Home for the Incurables was visited regularly, but over time, as a volunteer tail of over 95 students developed, a mega event was conducted on the 1st of December, to end the project on a high note. This was when 8 simultaneous sessions were carried out at children's orphanages, centres for the physically/ sexually abused, and homes for elders and the differently-abled, across 8 different provinces in Sri Lanka.
Follow @timesonlinelk
comments powered by

Disqus