Click into a world of photography with Mettasena
By Shalomi Daniel
10-week course for beginners

View(s):
He is eager to cultivate among youngsters, a passion that he developed when he was just 15 years old. Padmakumara Mettasena who was a teenager when he fell in love with photography has developed this passion into a career. He now wishes to share his knowledge and experience with budding photographers.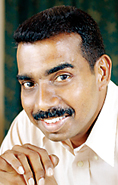 Mettasena hopes to hold a 10-week photography course for beginners, starting on September 23."Some young people who saw my photographs on Facebook wanted to know if I conduct classes.
This gave me the idea of starting this course," explained Mettasena, adding that he picked September because students who have sat the Advanced Level would be able to attend. The course will address areas such as the discipline required of photographers and how photographers can market their work. "Discipline is very important, though it is sadly lacking today," says Mettasena.
Sanjaya Vitane from the University of Moratuwa will be participating as a visiting lecturer and in addition to the course-outline, the students' subjects of interest and opinions will also be considered and classes designed accordingly, he says.
Fully immersed in the genre of fashion and wedding photography, Mettasena started his career by publishing picture stories. "I used my father's box camera to take photographs," he reminisces, pointing out that photographers "took quite a risk those days, as we were not sure what our photographs would look like till we developed them".
However, today, technology plays an important role in photography and Mettasena says that it has made the job easier.
The course is to be held every Sunday from 8.30 a.m. to 12 noon from September 23 – November 25. Interviews and registrations will be held at 15A, Menerigama Place, Mount Lavinia, on September 16, from 8.30 to 10.30 a.m. The course fee is Rs. 15,000. For more information, please call Mettasena on 0777716357.
Follow @timesonlinelk
comments powered by

Disqus