People and events
View(s):

Wesley College honours past cricketers at gala reunion

A celebration of the contribution of Wesley College, Colombo, to society and a gala reunion will be held by the old boys of the school from September 6-9.

The event will emphasise the role the school has played in moulding the lives of its students with special emphasis on past cricketers.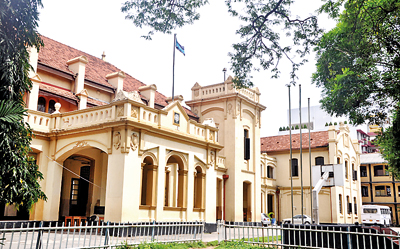 The celebrations will begin with a special school assembly presided over by Principal Dr. Shanti McLelland, a past Wesleyite, on September 6. The Principal and staff will lead the old boys in procession to Highfield Hall where they will join the Chairman of the Methodist Church, Rev. Dr. A.W. Jebaneson, Chaplain of the school, past teachers and guest speakers representing old boys in Australia, Normal da LaHarpe; United Kingdom, Europe and United States of America, Wimal de Silva; and Sri Lanka, Edmund Dissanayake.
Thirty-two past Wesley 1st XI cricketers who have completed 50 years since representing Wesley will be felicitated with the award of a specially-designed Double Blue Scarf. Dr. Nihal Amerasekara, a distinguished past Wesleyite domiciled in the UK will be awarded a special plaque for his untiring and dedicated services as Editor of the 'Double Blue International' website. Two loyal ground staff members, Vincent Perera and Charlis, with over 30 years of service to the school, will be honoured with the award of plaques.
On September 7, a banquet will be held at the Galle Face Hotel, with those who played for Ceylon/Sri Lanka being honoured that evening together with the Editor of the book, 'Wesley's Cricket History 1982 -2012', Jeremy Brohier, a past cricketer and past President of the Old Wesleyites Sports Club. The first copy of the book will be presented to President Mahinda Rajapaksa at a separate ceremony at the President's Office by the President's uncle, D.M. Rajapaksa, a past Wesleyite who also represented the 1st XI at cricket in 1916.
On September 9, a cricket match has been organised at Campbell Park which will be followed by a social at the Old Wesleyites' Sports Club adjoining the Pavilion with its refurbished old railway car as the centrepiece.
Jinaratana Vocational Technical Training Centre annual certificate distribution at Gangaramaya Temple
The Information Technology Section of the Sri Jinaratana Vocational Technical Training Centre under the supervision of the Gangaramaya Temple, Colombo 2, held its annual certificate distribution ceremony this week.
Senior Journalist Edwin Ariyadasa, Colombo University Vice Chancellor Kshanika Hirimburegama and Additional Presidential Secretary Deepa Liyanage were the chief guests at the ceremony.
The centre offers certificate and diploma courses in computer hardware and software and mobile phone repairing at a minimal charge.
Colombo Medical Faculty batch of 62  renews old ties with outing
They gathered in the lobby of the Cinnamon Grand Hotel on Friday before leaving for a long fun weekend at the Chaaya Tranz, Hikkaduwa. There was not only laughter and jokes but also nostalgia, for some of them had not met for many a long year, as much as 40 years.
Coming from across the world, America, England, Australia and New Zealand and from within Sri Lanka, these eminent doctors were the batch of 1962 who entered the Colombo Medical Faculty, as "penniless young people" as one doctor said, 50 years ago.
The committee which organised the reunion was headed by Dr. Swyrie Balendra and Secretary Dr. Lucky Abeygunawardene, fondly known among the group as Secretary-General Ban Ki-moon.
Prof. J.B. Disanayaka to launch Encyclopaedia of Sinhala Language and Culture
Prof. J.B. Disanayaka's latest book, 'Encyclopaedia of Sinhala Language and Culture' will be launched on Thursday, September 6, at the Mihilaka Medura, BMICH premises at 4 p.m.
This volume, consisting of 25 essays arranged thematically and divided into encyclopaedic entries of equal length, is described as "three books in one" — a grammar, dictionary and encyclopaedia, all pertaining to the Sinhala language.
Prof. Disanayaka is Professor Emeritus of Sinhala of the University of Colombo and is a linguist by profession, trained in both the American and British schools of linguistics. He has written extensively in both Sinhala and English on language and culture. This event is open to the public.
St. Joseph's Ja-ela/Wattala OBU dinner dance
The St. Joseph's College Old Boys' Union Ja-ela/Wattala Branch will hold its annual dinner dance to celebrate 25 years of excellence on September 8 at the Grand Ballroom, Hilton Colombo from 8.30 p.m. onwards.
The bands in attendance will be Marians and Heat. For tickets, please call Vindya on 0777701692 or Prethiraj on 0773113836.
SLMA looks to the future
SL professional secretaries delegation in Dhaka 
The delegation from the Sri Lanka Association of Administrative and Professional Secretaries (SLAAPS) is in Dhaka, Bangladesh, participating at the 21st Association of Secretaries and Administrative Professionals (Asia Pacific) Congress which ends on September 6.
Seated (from left) — Dilamani de Mel of Pership Group; Swineetha Jothiraja of the Institute of Bankers (Committee Member); Rajini Jeganathan of Steuart Manu. Pvt Ltd (Committee Member); Damayanthi Fernando of the National Savings Bank (Vice President); Premani Peiris of the Prestantia Academy (President); Ruveena Cader of  the Capital Maharaja Organisation Ltd. (Advisor/ASA Coordinator); Lorna Caldera of the Central Bank (Secretary); Gayanee de Alwis of CATIC Engineering (Committee Member); Ruvini Fernando of the Bank of Ceylon (Past President); and Kumudhu Fernando of Mobitel Pvt. Ltd. (Committee Member).
Standing (from left) — Iyne Gunawardena of the National Savings Bank, Anoma Perera of the National Savings Bank; Samanmalee Singh of Litro Gas Lanka Ltd; Nirmali Senadeera of the Bank of Ceylon; Antoinette Pintoe of Kay Jay Group; Niranjala Sarathchandra of the Central Bank; Anandika Hettiarachchi of The Central Bank; Sanya Ansar of Maersk Lanka Pvt Ltd; Shamshad Begum of Energy & Power Dev. Ltd; Irene Jayakody of the National Savings Bank; Nishanthi Perera of the Central Bank; Rizana Azeez of the National Savings Bank; Vajira Alwis of the National Savings Bank; and Sharmani Ranasinghe of the Central Bank.
A book of prayers and illustrations for children
Follow @timesonlinelk
comments powered by

Disqus