The Music Project's children of Kurunegala and Mullaitivu to perform at FGLF
View(s):

The children of the Music Project Orchestra will present a special performance at the Chamber Music Society of Colombo's (CMSC) concert at the Dutch Reformed Church, Galle Fort on Saturday, January 17 from 7-8 p.m. as part of the Fairway Galle Literary Festival.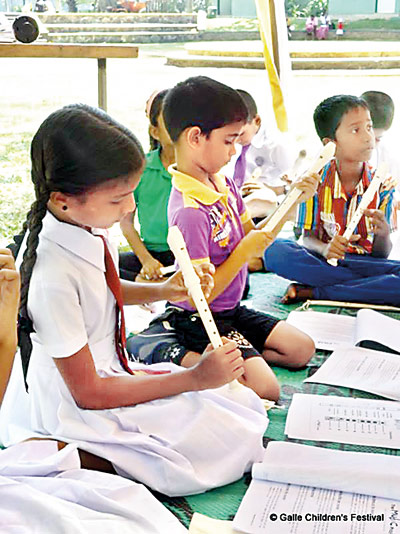 Lakshman de Saram, founder and principal violinist of CMSC, is also a trustee of The Music Project. "Why I feel this is important, and no matter how often we hear it, the future is our children and exposing them to culture and the humanities will make their contribution to the community that much more valuable," Lakshman said.
The Music Project's children of Kurunegala and Mullaitivu will perform "Themes from the Water Music" by Handel, "Pomp and Circumstance" by Elgar, "Half Minute waltz" by D.R. Bellwood and "Ganga Addara" – the Sinhala movie theme song.
The Music Project will also take part in the Fairway Galle Literary Festival's – MAS Galle Children's Programme where they will conduct a special lunch-time performance for children on Saturday, January 16 from 12.30 – 1.15 p.m. at the Thomas Gall School.
On Sunday, the 17th they will have a free performance at 2.30 p.m. A team of teaching staff will conduct recorder workshops at Dharmapala Children's Park, Galle – for as many children who wish to participate, showcasing the accessibility of the recorder as a starter instrument.
The Music Project aims to reach as many children as possible through the holistic and therapeutic tool of music.
The Music Project currently has three programmes: the orchestra project- with over 400 children learning orchestral instruments fulltime, the Recorder Programme which has over 1600 children learning recorder as an after-school activity and the Parallel Versing programme with Beyond Skin of Northern Ireland using a digital platform to connect children globally through music.