Thai Pongal: Being thankful for life's blessings in this modern age
By Kaveesha Fernando
View(s):
Once upon a time Lord Shiva asked his bull, Basava, to go to Earth and tell the people to apply oil to their hair and bathe daily while eating once a month. Basava got mixed up and told the people to eat daily and bathe once a month.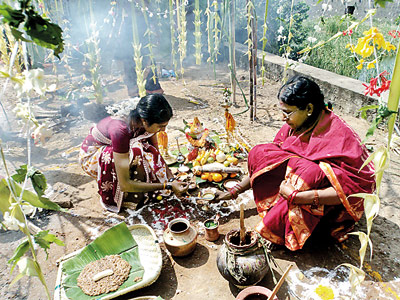 When Lord Shiva heard about the mistake, he was enraged. He banished Basava to Earth. He is said to have told the bull 'If you told the people to eat daily, you can now go and help them cultivate enough food to do so'.
This is the legend associated with the origin of Thai Pongal, the harvest festival celebrated by Tamil Hindus giving thanks to the Sun God. The festival which falls on January 15 celebrated mainly in India and Sri Lanka and spans three days.
Bhogi Pongal is the first day of the festival during which it is customary to clean one's home and get rid of old possessions.
Some say that old habits of jealousy and resentment are also included in the concept of 'getting rid of the old' and so while cleaning the houses with turmeric and burning old possessions– they also attempt to rid themselves of such feelings.
The second day, Thai Pongal sees devotees wake up before sunrise and make preparations to ensure that the milk in the traditional clay pot boils over as the sun rises.
The timing must be just right. Pongal rice is then prepared with equal parts of green gram and rice mixed with jaggery.
After making offerings to the Sun God and to the Earth, devotees then go to the kovil to pray and give thanks. They return home to exchange sweetmeats and good wishes with friends and neighbours.
Mattu Pongal the third and final day of the festival is when the cattle are thanked for their contribution to the harvest.
Cows are decorated with garlands and fed Pongal rice and it is considered auspicious to have the cow walk around the house, in effect 'blessing' the house – a custom which used to be done in every house in the village.
Although customs have varied somewhat over time, Thai Pongal remains a festival which stays true to most of the original traditions.
"In an era where people often forget the extensive role that nature plays in our day-to-day lives, it's a day that reminds us that we should be thankful to all that nature has bestowed on us," says Narmada Sittampalam, a student living in Colombo.
Young executive Subraja Subramaniam believes that although originally celebrated by farmers, festivities spilled over to neighbouring traders as well because the traders hoped for a bountiful harvest for them to sell.
"Thai Pongal is a harvest festival and Sri Lanka is mainly an agricultural country. Therefore although it is not always widely celebrated in Colombo, it is given a lot of prominence in Jaffna," says Sarangan Raghavan, who grew up in Jaffna.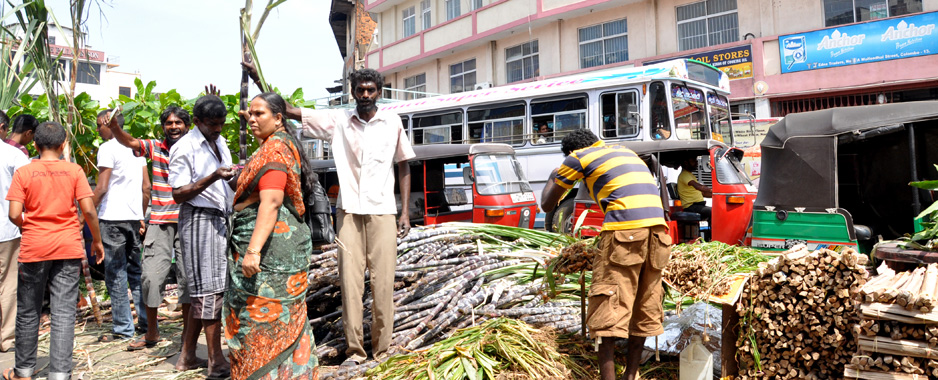 He also describes what a typical celebration would be like in Jaffna. Along with the traditions mentioned, landowners would call their workers together and conduct a pooja, following which they would give them food and new clothes – thereby celebrating the harvest with them as well.
Thai Pongal is also said to erase barriers between the rich and poor – even if it is just for a day – because everyone celebrates and takes part in the festivities together.
The Sunday Times spoke to the Mayurapathy Sri Bathra Kali Amman Kovil regarding Thai Pongal and its relevance to modern life.
Devotees residing in the city still worship the Sun God because 'without the sun, nothing happens' and this is why it is still an important aspect of Tamil Hindu culture, the Sunday Times learns. Devotees also find something old to burn, even if it's a mat, to symbolically get rid of evil.
There are also scientific and logical reasons for many of the customs. Mango leaves are hung at the doorway of houses. Turmeric water is sprinkled inside the house.
Sirrupulayvayr (which is also known as pol pala) is tied around the earthen pot used for boiling the Pongal rice and is also considered to be a talisman against evil.
All three are known to have antioxidant properties. Burning items to ward off evil also serves as a way to ward off the cold felt in India in January and people would gather around a fire and celebrate.
Such customs clearly have deeper meaning than what meets the eye. The fact that children in the modern era do not know the meaning behind the traditional customs and sometimes cannot even speak a word of their mother tongue is something which the kovil elders find saddening.
They stressed on the importance of Tamil children learning and developing an appreciation for ancient customs and felt that children of all races should learn about such customs to promote understanding.
In an era of hyper commercialised festivals which promote advertising and materialism, Thai Pongal stands apart as a simple festival of thanksgiving which is celebrated in much the same way it was meant to be – as a serene festival which still has all the meaning which it was intended to have.
Thai Pongal teaches devotees a valuable lesson – that of thankfulness. From the sun which we depend on for our daily existence to the cows that help with the harvesting to the workers who help sow the field, no one is forgotten on this joyous occasion.
In an era where being grateful is not a common practice, Thai Pongal instils a message which is vital for the betterment of society – the importance of giving thanks.
As Thai Pongal is celebrated in different parts of Sri Lanka on January 15, let the light of Thai Pongal shine in hearts and homes.