Star struck!
By Duvindi Illankoon
The owner of the world's largest cut and polished blue star sapphire says he is ready to part with his stone to a suitable buyer
View(s):
The Lankan Star of Adam is the world's largest cut and polished blue star sapphire weighing in at 1404.49 carats. Obtained by a buyer who wishes to remain anonymous, it was cut, polished and certified in September 2015.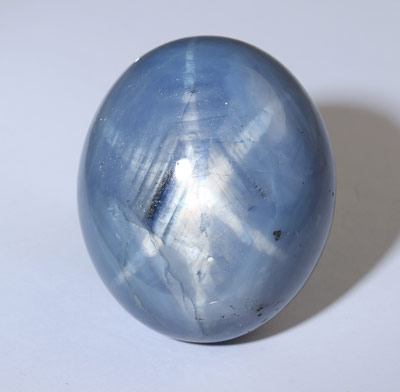 For comparison, the Black Star of Queensland in Australia was believed to be the world's largest star sapphire up until now. It weighs 733 carats.
There were reports of another Sri Lankan blue star sapphire that was cut and polished to weigh in at 1395 carats, but its whereabouts are not known.
Mr. R, who obtained the Lankan Star of Adam, says that his is the largest blue star sapphire in the world at present.
The gem was presented to him by a business contact (he plans to go into the jewellery business himself, in the near future) and he was immediately taken with it.
A former IT professional, he has moved into the gem and jewellery business, saying "what better way to spend your work day than looking at such beautiful things?" Now, he plans to part with his blue star sapphire to a suitable buyer.
For centuries Sri Lanka has produced some of the world's most valuable gems, including several of those that adorn the British monarch's crown.
The Star of India, a greyish Blue Star Sapphire was mined in Sri Lanka and is now housed at the American Museum of Natural History in New York- it weighs 563.35 carats.
The Star of Bombay, also of Sri Lankan origin, weighs 182 carats and lies at the Smithsonian National Museum of Natural History in Washington, D.C.
However the most prominent star sapphire was the Black Star of Queensland from Australia, discovered by 12-year-old Roy Spencer in 1938.
His father, a miner, dismissed the uncut stone as an enormous black crystal and relegated it to use as a doorstopper.
The stone's true value was discovered in 1947, and it was purchased by Armenian-born jeweller Harry Kazanjian who cut the stone as an oval cabochon, sacrificing 423 carats of material, in order to reveal a six-pointed star weighing in at 733 carats.
Star sapphires contain intersecting needle-like inclusions that cause the appearance of a star-shaped pattern when viewed with a single overhead light source.
The Lankan Star of Adam has been certified as an unheated blue star sapphire, translucent with an Oval/Cabochan Cut weighing at 1404.49 carat, and measured at 63.38 X 54.50 X 35.41 mm.
For inquiries write to largestbigbluegem@gmail.com