Artist and poet drawn to the wonder of Earth
By Duvindi Illankoon
Anoma Wijewardene's exhibition, 'Earthlines' at the FGLF promises to be a visual and vocal treat teamed with Ramya Jirasinghe's poetry read by Indian author Amitav Ghosh
View(s):
While others may go to bed with a religious text or a favourite novel, Anoma Wijewardene has her Rainer Maria Rilke.
Poetry is truly food for this artist's soul, so it's no surprise that her exhibition opening this week at the Fairway Galle Literary Festival, 'EarthLines', will feature poetry by Ramya Chamalie Jirasinghe, to be read by Amitav Ghosh.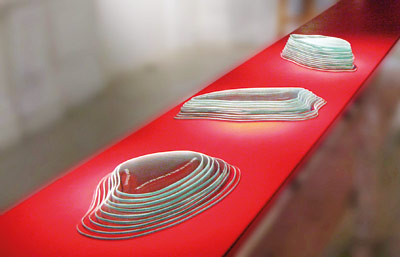 When we meet, it is at her studio cum home where her work hangs on every conceivable wall space available. "Perhaps one percent of all paintings end up in a gallery-the rest all go to homes, so I think it's rather lovely to have people look at them as they are meant to be seen," she says, ashttp://www.sundaytimes.lk/160110/uploads/11-Wright-Teague-Mayfair.-copy.jpg we wander around the large and airy rooms in which these paintings hang.
They're very geological, the ones that will move to a temporary home in the Galle Fort as part of the Galle Literary Festival at 48, Lighthouse Street.
She is once again inspired by nature, climate change and the increasing need for action more so. This is a topic that has inspired her throughout her career as an artist, a passion nurtured by a love for poetry and a childhood with her father, eminent inventor Ray Wijewardene.
Anoma studied at Central St. Martins, where she followed a course in design, "which people needed" instead of art, which was "what I wanted." She worked as a designer for quite some time before deciding that art was her true passion, and that was what she was going to do.
An illustrious career followed; solo exhibitions in Colombo, London, New Delhi, Kuala Lampur, Sydney and more, numerous awards and sponsorships, lectureships at several leading institutions including Central St. Martins among others.
'EarthLines' is a collection of work spanning a number of years; Anoma is in her element, mixing paintings with installations and pairing everything with poetry that Ramya has penned.
The paintings are meditative, the colours are cool and the striations and spaces and shapes in each are undeniably earthy.
There is something that is at once sophisticated but raw; you get the sense that the artist wants you to climb in and explore, immerse yourself in the painting to divine what it means.
They invite interpretation with their very abstractedness, with the melancholies of the distantly human forms one occasionally glimpses in some- dwarfed by the sheer magnitude of nature yet so powerful to wreak havoc with it.
"I was almost in tears when the Paris Agreement was finally reached," she says of the historic agreement that was reached at the Paris climate conference (COP21) in December 2015.
195 countries adopted the first ever universal, legally binding global climate deal that aims to limit global warming to well below 2 degrees Celsius.
It is not enough-it is never enough-but it is something. "Consensus has shifted," Anoma says. "More and more people are aware, are active. I can do my part by trying to reach your heart with my work."
The installation pieces are homage to shifting continental plates, of islands and water and the reversal of the natural order. On these translucent plates, which are mounted one on top of the other, more of Ramya's poetry has been inscribed.
The poet has worked with Anoma before for her 2012 exhibition 'Deliverance'. They met at a party and have been firm friends since; the friendship strengthened by a mutual regard for each other's work and independence.
"I would never dream of interfering with what Ramya has written for my work," Anoma says. Ramya smiles-"and that's why we work so well together."
Ramya is the author of Rhythm of the Sea and Trinity. Her book of poetry 'There's an Island in the Bone', published in 2011, was awarded the 2011 State Literary Joint Award for Poetry.
She was longlisted for the Fish Poetry Prize of Ireland in 2011 and was a joint runner-up to the UK's Guardian Orange First Words Prize of 2009. Her poetry has been published widely.
Writing poetry is easy business when Anoma's work is on hand to inspire, she says. "I'm always surprised by what her work catalyzes in me. I draw a blank at the start, but then I see the work and the words are just there."
For example she wrote the poem 'Earthlines' for this exhibition in the space of one evening. It begins;
"At the end of midnight
large, dark waves, swooped
upwards into the sky and harvested
the stars into the boats of
the sleeping fishermen."
And ends;
"Through their leaving, they lived.
The earth laughed, when finally, it heard,
the rhythm of its own heart
in the footfalls of the wanderers."
This, alongside the poems 'Deliverance' and 'Words on Water' will lend themselves to all the titles of the paintings. Anoma is inspired by these words as much as she is inspired by Rilke, her favourite poet.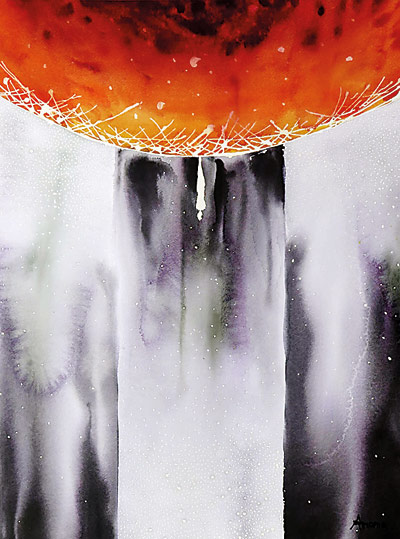 Travel, too, to farflung places such as the Sahara has touched her, but her favourite kind is the one she does in her studio: "I'll sit in my studio listening to some music and travel, within the painting itself."
Amitav Ghosh will read from Ramya's poetry at the exhibition's opening. The Bengali Indian author is best known for his work in fiction, for novels such as 'The Circle of Reason', 'The Calcutta Chromosome' and 'The Hungry Tide'.
Ghosh is one of the biggest names among the authors at the Fairway Galle Literary Festival, of which this exhibition is a part.
'Earth Lines' will open on Thursday, January 14 at 48, Lighthouse Street, Galle Fort.
Tickets for the opening, which includes the reading by Amitav Ghosh, are available on www.wow.lk. The exhibition will be on until January 18. It will also be open for viewing in Colombo from January 27 – email artanoma@gmail.com for details.