Appreciations
View(s):

Prof. Lakshman Susantha Perera

A brilliant academic whose humble ways stood out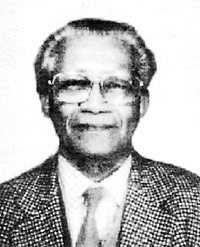 Professor Lakshman Susantha Perera, the well-known historian passed away peacefully in London a few days ago. He had been living there for more than 40 years and had been a good friend to the Sri Lankan community in the UK.
Professor Perera was a great teacher in the Ceylon University which later became the University of Colombo after the end of the colonial period.
He held many official posts in universities and rendered great service in the academic field. He taught many historians in the Universities of Colombo and Peradeniya.
He was a student at Prince of Wales College, Moratuwa and S. Thomas' College, Mount Lavinia. He entered the University of Ceylon in 1938 and obtained his degree in 1943.
He completed his Ph.D. in 1949 and this was the first Ph.D. to be awarded by the newly-formed University of Ceylon.
He became a lecturer in the University of Colombo, and later the head of the History Department and Professor of History. Then he became Dean of the Faculty of Social Studies.
Professor Perera had done his research on the subject, "The Institutions of Ancient Ceylon from Inscriptions from 3rd Century B.C. to 10th Century A.D." and contributed several chapters to the University History of Ceylon (Vol 1) and a number of articles to learned journals.
He was also a member of the Editorial Board of the revised University History of Ceylon and the Ceylon Journal of Historical and Social Studies.
He was an examiner for the Ceylon Administrative Service and external examiner for Ph.D. students for the Australian National University and SOAS University in London.
He maintained his links with SOAS University from 1954 until 1971 as a research associate and senior fellow.
Recognising his excellent service in the field of higher education in Sri Lanka, the Ministry of Education in 1973 with the approval of the Ministry of Foreign Affairs, recommended him to the Education Department of the Commonwealth Secretariat as a senior consultant on universities and higher education. He continued to serve in this position for 10 years until his retirement in 1983.
He was an authority on the history of Sri Lanka.
On a personal note, I came to know Professor Perera when in 1992 I was appointed as a resident monk of the London Buddhist Vihara.
As I am interested in Sri Lankan history, Professor Perera recognised me as a student in his field. Many of his students at Peradeniya are known to me and some of them were my teachers at the University of Peradeniya, such as Professor Leslie Gunawardene.
At the time Professor Perera had developed a close relationship with the London Buddhist Vihara. He was a very good friend of the late Professor Saddhatissa and Dr. Vajiragnana. One day Professor Perera accompanied me to the British Library and helped me to get membership.
We had a close association over Buddhist meditation. A couple of times we had discussions on Buddhist meditation in his residence.
He had a marvellous library with a section on Hindu, Islamic and Buddhist books. He had a good knowledge about Zen meditation, and Hindu and Sufi traditions.
My understanding is that in his last period he spent his time meditating daily. Once I had an invitation from the Sri Lankan Government to join a delegation to Iran. Some of my friends advised me, "Bhante, you have to be very careful when you deliver your talk."
So I contacted a couple of scholars to get advice – Professor Ananda Guruge and Professor Lakshman Perera. Professor Perera contacted his academic colleagues in Sri Lanka and got some articles regarding the relationship between Sri Lanka and Iran. He came to see me with these articles and helped me so much to prepare a paper.
Although he had a brilliant academic career, he was a humble, down-to-earth person. Born as a Christian, he had a great enthusiasm for history, religions and meditation. Personally I know he had a great patriotic feeling to have one undivided country.
Professor Perera was a great son of Sri Lanka. I pay my tribute to him with respect on behalf of the Sri Lankan Sangha, the Buddhist community and all Sri Lankans. He will be missed by all Sri Lankans in London.
- Ven Bogoda Seelawimala Thera
Head of the London Buddhist Vihara
---
Alec Robertson
An outstanding propagator of the Dhamma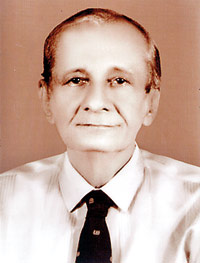 It is 14 years since Deshabandu Alec Robertson – preacher, writer and broadcaster of the Dhamma and one-time Member of Parliament – passed away.
Alec Robertson was born in Gampola on October 30, 1928, and died on the last day of 2002, at the age of 74. His working life was dedicated mainly to the Buddhist cause – propagating the Dhamma through talks, discussions, books and articles to Buddhist journals and newspapers.
One of his most significant contributions was the popularisation of the weekly Dhamma discussions in English at Maitri Hall, Lauries' Road, Bambalapitiya.
He was closely associated with the Servants of the Buddha Society, which has conducted Buddhist discussions on Saturday evenings for almost half a century. He started taking part in these meetings while he was still at school.
He became the society's Assistant Secretary when he was just 21 years. Later, he became secretary, and served as president for an uninterrupted 30 years, from 1969.
He relinquished this office only when he realised that declining health would not permit him to discharge the duties of this office effectively. But he continued to be associated with the society as its adviser until his demise.
His voice and personality reverberated in the Maitri Hall, where he chaired the society's meetings and gave a Dhamma talk every first Saturday of the month.
When the scheduled speaker could not turn up, Alec Robertson would give the talk himself, often asking the audience to suggest a topic.
Mr. Robertson had a prodigious memory. His knowledge of the Dhamma was extensive, based on his studies of Pali, the Dhamma, the Abhidhamma, and commentaries, as well as through his association with Buddhist scholars, monks and laymen.
Mr. Robertson was also for many years associated with broadcasting, giving Dhamma talks on the radio and participating in Dhamma radio discussions.
For several decades he participated in one of the most popular Buddhist radio programmes at that time, namely, the "Buddhist Forum".
In this forum, a number of Buddhist scholars discuss various aspects of the Dhamma and entertain subjects for discussions from listeners.
Participants in this forum apart from Mr. Robertson included at that time the late S. R. Wijayatilake, a former Judge of the Supreme Court and the late Austin De Silva, a dedicated Buddhist worker.
Mr. Robertson became the Chairman of the Buddhist Forum later and continued to perform the task, except for brief intervals, until his death, a period of two and half a decades.
As a writer, Mr. Robertson had many Buddhist publications to his credit. These include the "Buddhist Attitude To Christianity"; "Nibbana – Happiness Supreme", "The Triple Gem and the Uposatha", and "Buddha, the Healer Incomparable".
He also regularly contributed articles to the newspapers, Buddhist journals and the Buddhist annual, "Vesak Sirisara".
Although known largely as a promoter of the Dhamma among English-speaking people, Alec Robertson also had a good command of the Sinhala language.
As a young man he travelled to different parts of the country giving talks, usually in Sinhala, at the invitation of Buddhist organisations in the outstations.
He strived at all times to share his knowledge about the latent power held within the human mind. His messages were directed at awakening people to recognise this great untapped and unseen capacity within them and to introduce the teachings of the Dharma as the path to greater self-awareness.
Deshabandu Robertson masterfully used the Dhamma to explain the most abstract concepts such as the doctrine of impermanency that has even posed challenges to Western psychologists.
Deshabandu Robertson was well read in the discipline of Western psychology. He openly challenged eminent western scholars like Dr J. B. Reihn's conceptualisation of the human mind as inconclusive on the strength of the deeper understanding he had developed through the teachings of the Dhamma, continually asserting his belief that the Lord Buddha has been the greatest ever psychologist the world has ever seen.
His outstanding services in the cause of the Dhamma were recognised by the State when the J.R. Jayawardene administration conferred on him the title of Deshabandu. Later, the Premadasa government appointed him as a Member of Parliament.
He served for five years as an MP, focusing largely on Buddhism, social welfare and education. The UNP assigned him to the Avissawella electorate, and his addresses to the constituents were mainly on the Dhamma and its practice.
In recognition of the yeoman service rendered to the nation and the Buddha Sasana by the well-known propagator and preacher of the Dharma, Deshabandu Alec Robertson, a commemorative stamp was issued on October 30, 2013 under the National Heroes category. This was arranged to mark his 85th birthday and 10th anniversary of his passing.
Mr. Robertson pursued his mission in life with determination, courage and commitment. May his onward journey in Samsara be smooth and brief, and may he realise early the Supreme Bliss of Nibbana.
-Rajah Kuruppu
---
M.P. Salgado
Surveying and Bridge, the two passions of his life
M.P. Salgado who passed away on December 30, 2015 had a long career in the Surveyor General's Department, ending up as Surveyor General.
A brilliant mathematician, his main interests in the Department were in aerial photography and survey navigation. He had an intimate knowledge of the Sri Lankan landscape.
After retirement, he was appointed as head of the newly created Department of Surveying Sciences at the Sabaragamuwa University.
Apart from his profession, his abiding pastime was playing Bridge. He was one of the finest bridge players of Sri Lanka, captaining the Sri Lanka team at international events. Sal married Lakshmi Jayasekara from Kotte in 1964.
M.P. Salgado (Sal to his friends) was born in 1936 at Koralawella, Moratuwa and had his early education at Prince of Wales College, Moratuwa, transferring to Ananda College for his high school education.
He entered the University of Ceylon in 1955 and obtained a first class honours degree in mathematics in 1959. He entered the Surveyor General's Department as an Assistant Superintendent of Surveys in 1960.
He proceeded to Cambridge (Gonville and Caius College) to read for his diploma in Higher Surveying and Geodesy. He served in many parts of the country as Assistant Superintendent and later Superintendent.
His main specialisation and interest was in aerial navigation and aerial surveying and he was head of the air surveying branch of the Department.
He went on a scholarship to the Netherlands and was attached to the International Training Centre in Delft in 1969/1970 and qualified in aerial photography and navigation.
In Colombo he was responsible for aerial photography, aerial navigation and managing the photo lab. One of his particular responsibilities was flight planning for the Agricultural Based Mapping Project covering the entire island, which was funded by USAid.
For two years in 1981 and 1982, he was in Libya, as a consultant to the government of Libya, on release from the Department. As Surveyor General, he was particularly responsible for the re-triangulation of the country, utilising the Global Positioning System (GPS).
We take the Surveyor General's Department for granted and we little realise its enormous contribution to the development of Sri Lanka.
A firm impression one obtains from trying to understand Sal's career is that the Department is particularly strong in teamwork, without any one individual claiming credit for some outstanding achievements as a Department.
Sal made an important contribution to the development of survey education in this country. The Sabaragamuwa University was the first to establish a faculty in surveying, enabling undergraduates to take up the subject and obtain degrees.
For nearly five years from 1997 until 2002, he taught surveying at Sabaragamuwa (Belihul Oya). I understand from Prof. Indika, the current Dean of the Faculty of Geomatics that Sal was responsible for building up this department from scratch, spending much time in Rahangala where the faculty was then housed.
Sal oversaw the first batch of students through their entire four year course, before retiring in 2002. The Survey degree is now an internationally recognised degree programme.
Sal's professional interests in the broad field of surveying are arcane to me. Equally arcane are his achievements in bridge. He was a bridge player for the last 50 years, and since the 1980s he was one of the leading players in Sri Lanka.
He was a member of the Contract Bridge Association since the 1970s. He took part in national tournaments and won many championships.
Equally, he took part in many international tournaments and was captain of the Sri Lanka Bridge team from time to time. He won several of these events. One of his last international appearances was at the Asia and Middle East Bridge Championships in 2013 in Ahmedabad.
Above all else, Sal was a family man and doted on his three daughters. As his wife Lakshmi tells me, he wanted his daughters to be well educated and be professionals in their own right.
Bimalka (Seneviratne) is now Consultant Pathologist at the University of Jayawardenepura. Maulee (Hendahewa) is a senior doctor at Nawaloka Hospital, and Chayanika (Padumadasa) won the gold medal for chemistry at the University of Ceylon and was awarded a fellowship by the University of Oxford to read for her doctorate in Philosophy and she is now senior lecturer at Jayawardenepura.
The sons-in-law are Rohitha Seneviratne, consultant Paediatrician, Palitha Hendahewa, Deputy General Manager of the Sri Lanka Electricity Board and Sanjeeva Padumadasa, Consultant Gynaecologist.
What Sal was most proud of in the last months of his life was that his granddaughter, Senali Seneviratne won the gold medal for the best student at Ladies' College, Colombo and that she was placed first in mathematics globally for one of the London G.C.E A Level boards (Edexcel).
Before I conclude, let me thank Neil Seneviratne, former Surveyor General, Ranjith Amerekesekera, former deputy surveyor general and Y.R. Karunaratne of the Sri Lanka Bridge team for sharing their thoughts on M.P. Salgado with me.
-Leelananda De Silva
---
S.L. Gunasekera
The unrepentant atheist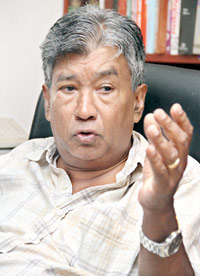 It is one year since S.L. walked away into the sunset.As befitting a non-believer his wife is not having an almsgiving or a church ceremony. She has simply invited his friends to lunch.
His epitaph could well be summed up in a famous poem by Alfred Lord Tennyson.
' Sunset and evening star.
One last call for me.
Let there be no mourning at the bar
When I put out to sea'
He certainly did not want any mourning. I think he was happy to walk away from this world.
He was the uncompromising nationalist who kept the flickering flames burning for a sovereign nation.No one was too big or powerful for him to oppose–the Americans, the Indians,and our own politicians were all 'par for the course for him'.
If Sri Lanka is still a sovereign nation despite the intervention of powerful forces S.L. was largely responsible for it. S.L. fought at the grassroots, Lakshman Kadirgamar took the battle to the rarefied chancelleries of the world.
S.L. wrote several books enlightening the people of this country of the consequences of tinkering with the sovereign state.
He made speeches, walked from village to village in the furthest flung outposts of this country educating the masses of what the politicians were trying to do to reach what was euphemistically called a political settlement to the longstanding war that was tearing the country apart.
He was the lone sentinel who held the belief that the LTTE can and must be defeated for lasting peace to dawn on this land. The government of Mahinda Rajapaksa made this possible.
What the government of the day must realize is that wars and conflicts are never over by the silencing of the guns. We have to ' keep the eye on the ball'.
Fissiparous tendencies have not disappeared and keep emerging in many manifestations. This is why we miss S.L. the most.He could see through this convoluted rhetoric.
He was an accomplished advocate who maintained the highest ethics of his profession. No client was too big or too small for him when he fought a case.
Toward the twilight years of his life he was one of the most sought after counsel for civil litigation.
He was also a planter who spent his weekends on his picturesque plantation of cinnamon and rubber in Kalutara. He always complained to me that the cost of production was way above the sale price of his products!
This did not surprise me as his workers were overpaid and S.L.did not know or maybe he did not care. He found a way of spending his hard earned money on giving his workers the highest wages in the plantation sector! But he was happy walking around during the weekends supervising his cinnamon, rubber and paddy crops.
How did this man who hailed from a strong Christian background become an atheist? S.L. was the eternal rebel. His first rebellion when he was around 14 years old was with God!
He told me many years later that he could never come to terms with an all merciful God taking the life of his impeccable father prematurely.
His young mind could not accept this.S.L. never accepted anything if there was no logic to it.Thus was born the atheist! He did not worship the shroud of Jesus or the crown of thorns as much as he refused to offer flowers at the Temple of the Tooth Relic in Kandy, much to the chagrin of his Buddhist supporters of the Sihala Urumaya of which he was the President.
As if to compensate, his brother S.J. is a devout devotee of the Almighty.
The biggest contribution this man made was for a sovereign state and the poem by Rev. Senior captures this most eloquently.
And he shall sing of Lanka.
Of the brave new days to come
when the races all have blended
and the voice of strife is dumb.
when we march to a single bugle
and dance to a single drum
-Malinga H.Gunaratne
---
MAHEsWARI MURUGASER
A gracious lady who touched our lives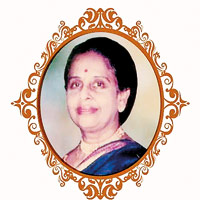 To the many beautiful roses laid at your feet, we dedicate ours.Our Amma, Maheswari passed away peacefully on Friday, December 25, 2015.
We cherished pleasant memories of love and friendship she gave us during her lifetime. From the first to the last she was a disciplinarian.
She instilled in all three children, two sons and one daughter – the strictest code of conduct with the same stern heart, she dispensed a love, gentleness and caring that we were so blessed to share.
She was ambitious to a fault, set goals – – and took great pride in her children's achievements. All through the years the children never hesitated to come to her with their problems, because they were sure of her sound advice.
To me her beloved son-in law, she treated me like her own son. I have known her for more than four decades. She touched my life in many ways.
Her kindness, concern, sympathetic nature, generosity and hospitality were immeasurable. She passed away on December 25 and we had a friendship till the very end. Her loyalty was true and she was a very special friend.
She was educated at Ladies' College , Colombo where she was an excellent athlete and Games Captain.
She married her cousin , the most eligible bachelor of the day in what was a true love marriage–Thambyah Murugaser, a Classics scholar and brilliant sportsman.
He was a Past Patron/President of the Tamil Union Cricket and Athletic Club and Vice President of Sri Lanka Cricket at the time we achieved Test status.
A beauty in her day and admired by many as she was gentle, dignified, gracious with loveliness rarely matched, she was a symbol of noble woman-hood,spouse and motherhood.
When my father-in-law passed away the long and blessed partnership of 50 years suddenly ended. Coming from a family that had many distinguished personalities, she was the granddaughter of Sir Ponnambalam Arunachalam, scholar and statesman.
She died at 88 -a life long enough to enjoy her grandchildren and great grandchild.
One ponders the intrinsic love that cleaves a child to his mother, and who at her departing from this world, leaves an unspeakably sad emptiness – the final severance of the bond that held and began with the first heartbeat.
Dear Amma, to you this epitaph we inscribe :
Gently you walked this earth
Nobly you lived this life
Lovely your fragrance will linger
Everlastingly.
Sega and Sarla