Letters
View(s):

Hope the President and Premier will perform better this year

Among many others expressing their concerns over the current state of affairs, reader R.de Silva of Kalubowila in a letter to the Editor recently suggests, that if they lack the will to act because of political disadvantages, the President and Premier should pack up and go home letting someone who has the guts do the job.

Unfortunately Mr. de Silva did not even hint who is this able 'someone' for the obvious reason that there is no one!

While agreeing with all the facts he points out, on behalf of and respecting over six million voters, who twice elected this government last year, I advise and request Mr. de Silva and others like him to be a little patient and allow them (the President and Premier) to perform in 2016 too.

Remember the country tolerated the ousted regime ruling the country for 10 years!

Dear President and Prime Minister don't just go home but please perform and deliver much better than the last year keeping in mind what readers like de Silva say!

K.U.Pushpakumara
(senior citizen)
Pitakotte
---
Blair as peacemaker: What a joke!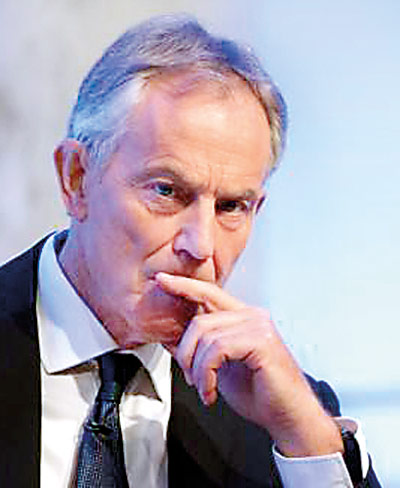 The news that Tony Blair may be given the task of a peacemaker is laughable.
He is a man who was directly responsible for the illegal invasion of Iraq resulting in the death of over half a million innocent people, not to mention the utter devastation caused to the buildings and utility services.
It would be interesting to know what the Chilcott Report which is expected to be released in April will have to say about Blair's role in the invasion.
From the apologetic noises emanating from Blair, the implication is that the Chilcott report will not be favourable to him.
During the long years of the LTTE conflict, several so-called experts came to Sri Lanka. They did little or nothing to sort out the problem and eventually, it was a homegrown solution that finally ended the conflict.
G. Amarasekera
Colombo
---
Our new  laws are like New Year resolutions! 
Everyone knows that New Year resolutions are made to be broken and often soon to be forgotten. Our Government brings in new laws and then after a few months they are all forgotten.
The helmet law came and is now half forgotten. The "jay walking" law came, now no one cares. The seat belt rule was brought in soon to be ignored. Now the ban on sili-sili bags has come – which was brought in earlier too and forgotten! Once more just for the fun of it!
Why cannot the Government think properly and bring in rules that can be imposed once and for all? Obviously the seat belt rule was a joke supposed to be implemented only on certain vehicles and that too in Colombo city where the traffic moves at snail's pace! If the Police start writing down everyone who is without a seatbelt the traffic will come to a standstill.
A few policemen gave tickets to a  few or took a bribe and ignored it when the traffic was not so heavy and that's it. Now no one cares.
Banning plastic bags is one thing but has anyone thought of an alternative? People have come to rely on them so heavily that it is going to be difficult to stop using them.
Is it to be banned only in the shops or at home too? Who is going to check? How are the people to get away from lunch wrappings, freezer bags/ sweet wrappings etc ?
Certainly the use of plastic is harmful to the environment but for any law to be effective the user must be willing to be part of the change.
It has to be done after extensive advertising, education and the law should be implemented firmly and punishment imposed without fail. It has to be stated again and again lest people/ law officers forget it.
Dr. Mareena Thaha Reffai
Dehiwala
---
Work out plan to deal with health issues of aging population
While writing the story of how he recovered from stroke, Prof. Channa Ratnatunga's appeal to the administrators and powers that be to make arrangements to establish well-equipped 'stroke care units' islandwide, at least in teaching hospitals, ( the Sunday Times Plus – January 3), is timely and appreciated.
Sri Lanka's elderly population is fast growing. In 2001, the elderly population (above 60 years of age) was two million, and it is projected to double to four million in 2021.
In the last census, it was 12.4% of the total population and it will be 16.7% of the total population in 2021 – a considerable percentage. This needs special attention. In 2030, Sri Lanka will have an unprecedented aged population to look after.
With such demographic change, the disease pattern in our country will also change. This is called 'Epidemiological Transition' in community medicine. With the improvement of health facilities, and socio- economic conditions, life expectancy goes up.
Communicable Diseases will come down and Non-Communicable Diseases (NCD) such as high blood pressure, diabetes, ischaemic heart diseases, strokes, cancers and arthritis in elders will rise.
Policy makers, planning officers, administrators at higher level and universities must draw up short-term, medium-term and long-term plans to deal with the crisis.
Health infrastructure development should take place with budgetary allocation at national and provincial level. Universities, educationists, academics and the Health Ministry must take the responsibility of strengthening Human Resources in the health field.
The school curriculum must be revised for children to acquire knowledge on practising healthy dietary habits, and encourage their participation in sports.
The public must be educated on healthy diets, and awareness created on the dangers of fast foods, about the importance of doing regular exercise, and maintaining the Body Mass Index (BMI) at healthy levels below 25.
Dr. J.Ranathunga
Rideegama – Kurunegala
---
Working late and office humour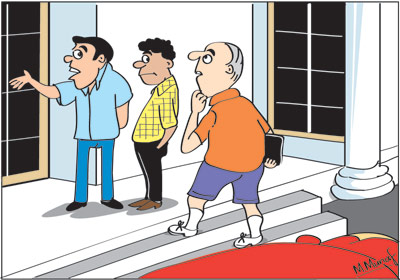 I refer to an interesting letter on punctuality in the Sunday Times of December 27.
As a veteran of estate clerical service for the past six decades, I have worked under local and foreign planters. In the sixties when work was easy for both managers and the staff, we did not keep the office open after 5 p.m.
Foreign planters, mostly Englishmen, as a rule, went to the clubs or movie halls almost daily.  However, things have drastically changed since then.
These days it is not unusual to see planters walking into the office as late as 6 p.m. and working till 8 or 9 p.m., with other office staff members also being asked to work.
Let me add a humorous incident which took place in the early nineties on an estate where I was the chief clerk and had about ten assistants.
Normally we closed office at 4.30 p.m. and thereafter had a game of badminton. One day, when we were about to close the office at 4.30 p.m., we saw in the distance the manager's vehicle coming towards the office.
We were wondering what to do. One smart guy told us not to worry, went inside the office and removed the fuse. The office was plunged into darkness.
A few moments later, the manager arrived at the office and told me that he had some urgent work to do. I told him it is not possible as the office had no lights for the past one hour. The manager said, "Is it so? Now what to do? Okay, we will attend to it tomorrow morning."
So saying he left for his bungalow and we left the office to play badminton as planned with a hearty laugh.
Although the incident took place more than 20 years ago, still I share this story with my friends who worked with me, whenever we meet occasionally.
David Williams
Kotagala
---
Are we not paving the way once again for mudalalis to rule companies?
The so-called 'Yaha Palanaya' regime's second budget seems to have disturbed not one, but several hornets' nests in numerous sectors, and is possibly the most contentious ever presented in a Sri Lankan Parliament.
Permit me to draw attention to another curious aspect that has not as yet attracted much attention, but is nonetheless of immense importance to public listed companies.
I refer to the entitlement to a place on the Board of Directors of a PLC of a person holding 15 per cent of that company's stock.
I believe that only one other country has such a law, and that is Cambodia!
Elsewhere, listed companies are allowed to appoint directors of their choice, taking into consideration the domain knowledge, management experience, reputation and contribution required from the directors to guide the business.
In recent times, there has also been pressure on companies to appoint independent directors in the interest of good governance.
By making it possible for anyone that can get control of 15 per cent of the shares of a company to demand a place on its board, isn't Sri Lanka moving backwards, and making our companies more vulnerable to manipulation by unscrupulous and unethical 'mudalalis' of the sort that held sway in the past?
Oscar R. Siritunga
Battaramulla
---
Marking National Safety Day
Don't waste money on useless events
This letter is written a few days before the National Safety Day (NSD) 2015. December 26 was declared as the National Safety Day (NSD), along with the commencement of the Disaster Management Centre (DMC) and the recognition of the National Disaster Act No. 13 of 2005.
This day is a day of commemoration particularly of tsunami victims. Some may remember the tsunami and may plan to offer dana and thousands of pahan (Pahan Pooja).
Organisers may be busy with preparation of budgets of the proposed National Safety Day events of which the expenditure will be millions of rupees.
In the years past, National Safety Day had been a day full of helicopter flights to and from the southern parts of the island, processions of Intercoolers carrying politicians, security personnel and media groups holding sophisticated video cameras.
Religious places used to be full of devotees, prayers, offering flowers, lighting millions of candles, burning thousands of bundles of handun kuru and organising Bodhi pooja.
Most of the hotels in the south may have been full providing accommodation for media personnel, governmental and non-governmental officers.
Most auditoriums in tsunami affected areas may also have had thousands of people listening to talks, sermons delivered by politicians and religious personnel.
At the end of many National Safety Days, some media informed us that it was merely a waste of funds which could have been allocated for the welfare of the tsunami victims who were still in a pathetic situation.
If I recall rightly disclosures in the media many tsunami victims still live in pathetic situations even in December 2014 because the necessary steps had not been taken by government or responsible authorities.
The media has also highlighted many times how billions of rupees have been spent on projects like construction of warning towers which are malfunctioning.
The National Safety Day has been declared as a day to remember victims of all disasters not only the tsunami. But in reality, victims of other disasters have been shown little concern by the authorities.
One of the many examples is the disaster caused by the earthslip at Meeriabedda in Badulla in October 2014. According to media information 321 victims of the Meeriabedda earth slip still live in temporary shelters.
It is a normal practice for Buddhists to organise pahan pujas. Such pujas are held during commemoration activities on the National Safety Day too.
Consider one of the religious events, of 100,000 (one lakh) pahan pooja of coconut oil laps. One can compute the rough cost to perform a one lakh pahan pooja considering the current cost of a bottle of coconut oil, Rs. 200, the cost of pahan, thread and travelling cost of several hundreds or thousands of devotees to attend the pujawa.
It will definitely be more than three million rupees to conduct a single one-lakh pahan puja. No disaster victim gains anything from these high-costing pahan poojas.
At least it is time to realize the reality even late. The relevant officials must understand the present state of the tsunami victims.
All the steps must be taken in order to make their environment satisfactory both mentally and physically. The available funds must not be mis-used but be allocated towards the welfare of disaster victims and their families.
I believe no victims or relatives of those who lost their lives during the 2004 tsunami or any other disaster expect expensive commemorations on National Safety Day; what they urgently need are meassures that would uplift their lives.
K.R. Abhayasinghe
Menikdiwela
---
When a sound of silence was truly golden
Musaeus College held its 124th annual Prize Giving recently. Much as I hoped to attend it as an invitee, I was unable to do so. However, I learnt from those present of an unusual incident that had occurred at the function.
At this Prize giving, when the Principal had been reading her report of the year's activities, unfortunately the electricity supply had failed and the auditorium was left in darkness.
It was occupied by prize winners of the Primary, Middle and Senior grades, student officials, parents and special invitees.
It had taken 20 long anxious minutes to restore the system. But what had apparently struck everybody present was the complete silence maintained throughout the trying spell of darkness.
There was not a whisper or whimper or sound of restlessness, although the 1600 occupants of the hall comprised mainly students, and that too from Grade 3 upwards. It had been awe-inspiring yet heart-warming.
When the lights came on, the Principal, before resuming the reading of her report, had very graciously taken a few minutes to offer well-deserved words of appreciation to her students for the courteous manner in which they had behaved.
Invitee
Via email
---
So called voices of the wise who have forgotten their days of youth
"Hold fast to the traditions of old,
Do not be stirred by the actions of the bold.
Learn from us, the wise ones who've gone before you,
Follow our footsteps in everything you do.
Voicing your opinion will get you nowhere,
Send those ambitious thoughts back to where they came from!
Foolish are you who dare to dream of getting somewhere,
Unlearned in the ways of this world are you, believing you can make a difference."
Thus say 'they'; the 'wise and learned'
But who may I ask, told them they were so?
Are they not just like us-foolish and weak?
Did they not fall short of themselves when days were bleak?
Granted, there may be a few exceptions to the norm,
But here lie the thoughts and words of 'Society-The Wise'
Crushing dreams, destroying hopes and silencing the opinions of its youth,
In a desperate yet failing attempt to teach us to live 'good' lives.
Forgotten, have they, these very thoughts and feelings
Which they themselves strived to make sense of in their youth.
Did their hearts not burn with passion and their souls not yearn for love?
Did their youthful, bright eyes not glimmer with hope for a better future?
Were they not inspired by the thinkers and dreamers of this world
Who dared to dream, believed in and achieved great things?
"We the unwilling, led by the unqualified,
are doing the impossible thwarting the ungrateful"
Must they always harp on the negatives?
Pessimism devours men and women of today's society.
Would it kill them to try being more optimistic about this world?
Ah but wait, the realist is the only man who can work his way through this maze called life.
But even so my youthful heart yearns for the day
When Society shows no attempt to bind its youth to its conventions.
Until such time, shall not they live by these words;
"Carpe Diem!" – Seize the day!
Rashmi de S. Wijeyaratne
Dehiwala
---
Pensioners' road to Calvary
Lord Buddha was inspired to meditate on the meaning of life due to the sight of "four images". One was the sight of a feeble old man.
This December, the pensioners were deprived of their payment due to the carelessness of the Pension Department staff at Thimbrigasyaya.
Climbing the flight of stairs at the department is like Via Dolorosa all the way to Calvary. These are people who toiled and sweated for this country.
E. Hamilton
Colombo
Letters to the Editor'Letters to the Editor' should be brief and to the point.

Send them to:

'Letters to the Editor
'The Sunday Times,
P.O. Box 1136, Colombo.
or editor@sundaytimes.wnl.lk.

Please note that letters cannot be acknowledged or returned