Combining her love for travel and art
By Purnima Pilapitiya
Radhika Dias Bandaranaike's maiden solo exhibition, 'Expression in Water Colour' reflects her twin passions in life
View(s):
Radhika Dias Bandaranaike's home isn't difficult to find. Through the winding corridors of the apartment building she resides in, a single white wall decorated with paintings points us to her door.
Inside, it's hard to fix one's gaze on a single object for a long time. The paintings and photographs lined across the walls each have a story behind them and reflect two of her favourite pastimes; travel and art.
On January 9 and 10 she will present her first solo exhibition "Expression in Water Colour by Radhika", a collection of paintings, many of which are inspired by her travels abroad.
"I have an eye for art" Radhika states. The pieces of art, paintings and knick knacks around her home stand as a testimony to her words.
Much like her collection of ornaments and paintings, Radhika refuses to limit her creative sphere merely to painting. Known for her creativity and skill with her fingers, she has long been known for her cakes and Christmas cards.
Seated atop her pantry shelves is china, delicately painted on by an obviously trained hand. Porcelain painting is another of Radhika's interests, which she learned under the tutelage of Rohini Aluvihare.
Having showcased some of her work at a joint exhibition back in 2010, the idea for her solo venture came from her current art teacher Damian De Silva, a graduate from the Royal College of Art.
A close friend of hers, the two first met when Radhika was working at the Lionel Wendt office. "I met him when he was holding an exhibition," she recalls.
His student for one and a half years, it was Damian who pushed Radhika toward her own exhibition- "Unless you do it you won't get the confidence you need".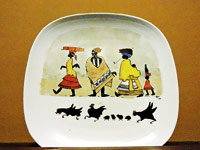 Radhika's portfolio is the harmony of simplicity and reality blended into water colour. A nature lover, it's no surprise that her collection includes a tribute to flora and her personal favourite- birds.
Also inspired by art both local and foreign, a few pieces will portray scenes she captured from her travels around the world.
"Expression in Water Colour by Radhika" is on today, January 10, at the Lionel Wendt Gallery from 9 a.m. to 6 p.m.