Sri Lanka's first Super Star
View(s):

He always slept on a camp cot – never on a comfortable bed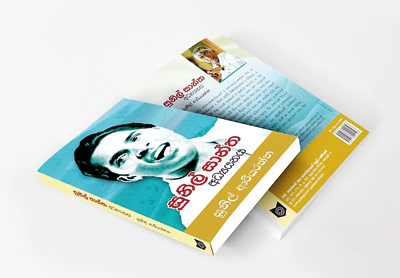 He constantly had a meagre meal – never a delicious dish
He got about in a rackety old car or in an old bus – never in a luxury vehicle
He only wore a simple cotton cloth, never a silky one
There was no radio in the house to listen to a song
Nor a musical instrument to compose a tune
He never sold himself in the marketplace
He never got cheated by politicians
He never yielded to injustice
He always strived to swim upstream in music
To this wonderful person
I offer this book which is all about him
Researcher Dr. Sunil Ariyaratne thus dedicates his latest publication 'Sunil Santha Adyanaya'to the great musician who spent his lifetime struggling to creating a 'deshiya sangeethaya' – an indigenous music.
With this book Sunil A fills a void that was evident. In 1988 he had done an exhaustive study on Ananda Samarakoon who, along with Sunil Santha pioneered a new path for Sinhala music.
I had asked him several times why he was not doing one on Sunil Santha. He had his own reasons. It's commendable to see him releasing 'Sunil Santha Adyanaya' in the great musician's 100th birth anniversary year.
The critical study on the musician's contribution has been a huge effort. Glancing through the bibliography the reader realises what a painstaking effort it had been.
Sunil A is one who believes in authenticity to the core. He would go from one source to another to verify facts. Naturally it takes time, but at the end it's a thorough job. That's what he has done with this study too.
As a columnist I had written quite a bit about Sunil Santha over the past few decades.
I had met him, chatted with him, enjoyed his music from the mid-1940s, seen his effort to educate the four children with the support of his wife Leela (in spite of difficult times and severe hardships he made the sons complete their university studies and become engineers and the daughter a veterinary surgeon) and admired his courage and determination not to bow his head to injustice.
Reading through Sunil A's book I learnt much more than what I had known and observed.
Sunil A first records Sunil Santha's life story in chronological order from the day he was born – April 14, 1915 -as Baddeliyanage Don Joseph John at Kepungoda near Pamunugama, Jaela until his untimely death on April 11, 1981 devoting nearly 60 pages.
In the narrative is a letter dated December 7, 1944 on a letterhead of Marris College of Hindustani Music, Lucknow signed by the principal, S.N. Ratanjankar.
It certifies that Sunil Santha alias B.J. John was a student of the college for five years and that he had "successfully completed the Vadya Visharad (Bachelor of Music) course, on the Sitar, securing first position in the First Division. Moreover, he got the Intermediate in-Music Certificate(I.M.C) Vocal also securing First Division. He is the only Ceylonese to get I.M.C both in Vocal and Instrumental music."
The principal states that his career was "uniformly brilliant and bears an excellent moral character with amiable behaviour."
It was ironical that this brilliant student could not continue his service to the nation when the state broadcasting authorities, bound by bureaucratic rules and regulations got rid of him when he refused to face the grading of artistes by his guru.
When Professor Ratanjankar first came in 1949, there were five singers in the 'A' grade including Sunil Santha. The others were Lionel Edirisinghe, Ananda Samarakoon, Devar Suryasena and Saranagupta Amarasinghe. The boycott happened during his second visit in April 1952.
Sunil A quotes from a statement by the then Director General of Broadcasting, M.J. Perera (acknowledged as Radio Ceylon's most efficient DG) who said that it was a most painful task to stop Sunil Santha from the radio.
"Mr Sunil Santha was a good friend of mine. However much I tried to persuade him to face the test by his guru, he was determined not to. I told him if he didn't face the test he would have to go under the administrative regulations. He was adamant. I had no choice."
Seven years later, Sunil Santha was invited by Director General, Ronnie de Mel to record a felicitation song after the death of Prime Minister Bandaranaike.
He accepted and recorded the song composed by Arisen Ahubudu. He did not use an orchestra.
It was even more ironical that after the establishment of the SLBC in 1967, its first chairman & DG Neville Jayaweera invited Sunil Santha to grade the artistes along with H.W. Rupasinghe and W.D. Amaradeva. "It has taken fifteen years for them to understand what I said," Sunil Santha had quipped.
Sunil A mentions that Sunil Santha had taken the initiative in grading Nanda Malini as a special grade artiste. He had wanted C.T. Fernando to be put on the special grade but the others in the panel had not agreed.
DG Jayaweera wanted Sunil Santha to resume programmes which he agreed to and the listeners were treated to a host of creative musical programmes including 'Rav Valava', 'Madhura Madhu', 'Sigi Gee', 'Pancha Madhura' and 'Edithara Lanka'. They were all research-oriented creations.
Early days
Going back to the early days of music recordings, Sunil A mentions that although the Broadcasting Service had started in 1924 and live performances were done from 1927, it was only in 1946 that recordings were started.
The first songs to be recorded were Sunil Santha's 'Olu Pipila', 'Kokilayange', 'Palabara Bak Mase', 'Rella negenne' and others. These were followed by Surya Shankar Molligoda's 'Laladhara'& 'Sumashura Sumadhira', and P. L. A. Somapala's 'Nirmala Mage' & ' Me Vanantare'.
"Recording at that time was very challenging. Tapes were not used then. The song was directly taken to a record. If a mistake was made, the record had to be thrown away," Sunil A says.
The constant repeats of Sunil Santha's songs over the radio made him extremely popular. "There was no other artiste in the Sinhala music scene as popular as Sunil Santha.
There was no other singer or a musician who was so popular. He was Sri Lanka's first Super Star," says Sunil A. "Apart from singing he was also very handsome and a most pleasant personality."
Reading through the life Sunil Santha and his family led after he was sacked from radio is really saddening. His wife's salary as a teacher was not sufficient to feed a family of six (they had four children).
Sunil A quotes wife Leela: "He sold his Bug Fiat car he had bought by selling his books for 3000 rupees. He later started selling cloth. He sold dry fish. Did some cultivation. Repaired Petromax lamps.
Repaired cars. Sold batik sarongs on the pavement. He learnt to do woodwork and masonry. I gave tuition charging just five rupees a month from a student.
Sunil used to tease me saying ' There your five rupee tuition students are coming'. His selling efforts were not always successful.
He was too good-hearted.When he was selling cloth, when a poor woman comes he just accepts whatever is given, he didn't quote a price. 'How can I charge from old ones – they are like my mother', he would say."
Lester's call
Sunil A narrates in detail how Lester James Peries had to try hard to get Sunil Santha to provide the melodies for 'Rekawa', his first feature film.
Lester had heard Hubert Rajapakse singing 'Olu Pipila' when he was in London. He had then decided that he should get Sunil Santha to direct music if and when he decided to do a film. Sunil flatly refused because of his firm conviction that filmmakers of Sinhala films were ruining Sinhala music.
Lester then came along with Father Marcelline Jayakody who managed to convince him that Lester's was going to be different.
During his conversations Sunil felt that Lester was moving away from the stereotyped pattern. He agreed to only compose the tunes and wanted B.S. Perera to direct the music.
Ivor Dennis was to keep an eye on music direction during the recordings done at Vijayavahini Studio in Madras. The six songs with Sunil's tunes became instant hits. Records with the songs were sold under the Lotus label.
For Lester's second film, 'Sandesaya' too Sunil Santha composed the tunes for seven sings written by Arisen Ahubudu on Sunil's suggestion. Music was directed by R. Muttusamy and recording done in Madras.
They too became extremely popular. Four records were released on the HMV (His Master's Voice) label.
Sunil A reminds the reader that the first song sung by Sunil Santha in a film was in 1964 in 'Ambapali', a Bengali film dubbed in Sinhala.
The song on the qualities of the Buddha was written by another stalwart in the Hela school, Raphael Tennekoon and Sunil Santha did the melody.
His second film song was a memorable one. The film was Romeo Juliet Kathawak' directed by G.D.L. Perera in 1969. 'Dreams are Roses' was the song written by Fr. Marcelline Jayakody. It was the first time that the he sang a song with a melody done by another musician. It was Shelton Premaratne's tune.
Sunil A unearths another rare instance when Sunil Santha composed melodies for two songs for his pupil Christopher Paul. Sunil A terms as 'tragic', Sunil Santha's decision to compose songs for 'Kolamba Sanniya' directed by Manik Sandarasagara.
Sunil A then moves on to analyse in detail Sunil Santha's music philosophy followed by another chapter on the composition of melodies and songs.
Sunil A himself being a Sangit Visharad from Lucknow knows what he is talking about and the critical study he makes on Sunil Santha becomes much more comprehensive and meaningful.
In a separate chapter on book publishing Sunil A describes how Sunil Santha produced ten books in five years (1947-52). He discusses in detail how the 'publisher mafia' destroyed Sunil Santha's efforts to publish song books on his own.
As in the other sections here too Sunil A adds value by discussing the history of music book publishing from the 'nurti' days in the early years of the 20th century.
A selection of Sunil Santha songs with notes and a collection of photographs relating to his life complete the 296-page Godage publication – a carefully planned, complete felicitation volume to a great musician of our land.
It was well worth waiting for, Sunil!
Book facts
'Sunil Santha Adyanaya' by Professor Sunil Ariyaratne
A Godage Publication. Reviewed by D.C. Ranatunga