Goal-line technology works, says Blatter
by Peter Hutchison
View(s):
TOKYO, Dec 15, 2012 (AFP) – FIFA President Sepp Blatter said Saturday that goal-line technology "works" and that referees were happy to see it implemented, as a trial of rival systems at the Club World Cup in Japan enters its final stages.
The world body has been testing two technologies that determine whether a ball has crossed the goal-line — the camera-based Hawk-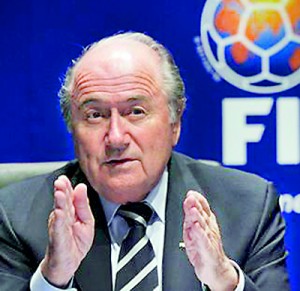 Eye and the German-developed Goalref, which utilises magnetic fields and a ball fitted with a microchip.
Although the intercontinental competition has yet to witness a contentious goal-line decision for the rival systems to judge, Blatter said the early signs were good.
"For the time being we can only say 'it works'," Blatter told a news conference in Tokyo, a day after FIFA held its final Executive Committee meeting of the year.
"We have had no critical situations so far and we will make an assessment after the final matches tomorrow.
"But the one thing I can say is that the referees are happy to have this help for them because they know now that if there's a conflicting situation it is possible to get the assurance to say if it was or wasn't a goal."
FIFA granted licences to Hawk-Eye and GoalRef following a lengthy testing process lasting around two years.
Follow @timesonlinelk
comments powered by

Disqus