Tennis; competition and for life
View(s):

Playing Tennis is a "Passion". As beginner, as advance player, competition player, international player and recreation comes from a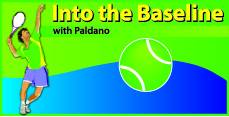 passion. Sri Lankans are sports minded. Every news paper has a sports page, every gathering talk sports. We all have a sports opinion. We have a passion for sports.
Passion motivates us into doing sports. Participation in sports means is to accept and place CHALLENGES. That is Passion operating within us to do. What creates all this in Tennis? A Court, ball, opponent and game making idea! First country to play a game like Tennis is suspected to be Egypt. "Tennis" is it the passion of Ramses and Cleopatra that we are experiencing?
Tennis court is 27 by 78 feet in singles and 36 by 78 feet for doubles. For a layman 12 strides wide and 24 strides long. Each player has to defend 12 by 12 stride surface. Why 12? It is English Dozen. Reactions of players with 5' 8" in height and 148 lbs muscle power will do well to cover the court before the second bounce of the ball. Our reaction peaks when this physical requirement comes to being; not before. It was the British Navy's recruitment norm. The British navy had a hand in the Tennis court making in 1892; that is why Tennis had white dress code for a long time. Wimbledon even today is White. Tennis balls were also white. Before 1892 courts were of different size.
"REACTION" is the language of sports. In Tennis it is extreme. Reaction begins to mature at an age around 15. Tennis reaction needs the support of strength and endurance to sustain the game. In a close match between two players, each would cover 12 kilometers of sprinting, transfer 130,000 kg of power, play 2800 shots each and make over 3000 decisions. More of it later;
Girls reaction matures early and boys later. Those going to grow taller will be slower in reaction before 16 in both genders. Then their long bones get the support of muscles. At that time if they have ball control and a game they become formidable. Some grow fast; often the success registered by these fast growers is mistaken for talent. It is "biological advantage" that we see and not talent. Growth evens out between 16 and 18. Slow growers catch up with the fast growers. This is the reason why we do not hear much of the under 14 champion later. Europeans matures physically early.
Over training will negate passion. Children will not grow and vital organs can be stressed by over training before 15 and cause many injuries. It results in loss of reaction and motivation. Stress also sends players out of the game. Why? It is no fun; No fun is no passion. It is the reason most of the youngsters give up Tennis at 16. In such cases their Tennis has been 80 percent training in groups. Watch out for this unseen enemy. Tennis is a late specialization sport. Swimming is early specialization sport. Do not train to hard till 15.
Reaction uses eyes, mind and body. Eyes to track the ball for contact and body suppleness of the swing are the early signs of talent. Again more of it later;
Up to 18 million take to Tennis every year worldwide. About 15 years later, less than 20 make today's recognized open ranking; ATP and WTC. Certainly they are not the only benefits of playing Tennis. Tennis is for life. Have you seen a Tennis player on a rainy afternoon? Sight would melt your heart. Passion to play is difficult to explain, easy to experience. Tennis is a character building sport. To take on the world alone later in life Tennis is a good sport.
The SLTA Tennis development programme was started in 1979. A good idea; conservatively about 300,000 may have gone through the programme since then. Our "open tournaments" in the last 20 years struggles to get a draw of 32 players in open Men's and women's event. That is the rate of drop out in Sri Lanka. Young players by 18 have gone away without the taste of Open Tennis experience. If you have not played Tournaments for at least 6 years after your 22 year, you have not played Tennis. It is a late specialization/maturity sports. This is something many parents and players coming into Tennis do not know. Today even the teaching staffs are teenagers not having played open Tennis.
My effort first will be to inform parents and players as to how to come into the game stress free filled with fun; remain in the game and experience the entire spectrum of Tennis in life; like so many Sri Lankans have in the past. To name a few, Late B.L. Pinto, Late Douglas Fonseka, P.S. Kumara, Rupert Ferdinands, Jumbo Fernando, Arjun Fernando, Rohan de Silva and many… many others.
Tennis belongs to the global village. Local and closed age group ranking have no significance. The last to reach the top 100 of ITF World junior ranking are Umesh Wallooppilai, Saranga Sangakkara, Lihini Weerasooriya in the eighties. Arjun Fernando and Suresh Sivagnanam reached Men's ATP top 200 in their time. A great achievement; Lihini Weerasooriya was also in that league. Currently Oshada Wijemanne's distinct modern game is very impressive. Good prospect for ATP. Harshana Godamanne has a strong game and has delivered well in Davis Cup. It is Harshana who is keeping us in Group two of the Davis cup competition. We are due play Pakistan in Colombo. It will be a good tie. Harshana will grace our Davis Cup team again in 2013.
- georgepaldano@yahoo.com
Follow @timesonlinelk
comments powered by

Disqus