Carbon credit suppliers should not just simply offset carbon emissions in the atmosphere by planting trees that suck up equivalent quantities, but should instead be "more aggressive" and plant twice the number needed to facilitate even greater reductions in emissions, according to top Sri Lankan environmentalist and Nobel laureate Prof. Mohan Munasinghe.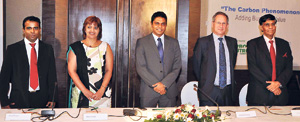 From left -- Fazal Fausz – Director Carbon Consulting Company [CCC], Ms Rani Virdee – Managing Director Asia Pacific Carbon Neutral, Subramaniam Eassuwaran – Director CCC, Jonathan Shopley – Managing Director Carbon Neutral UK and Nobel Laureate Professor Mohan Munasinghe – Environmental and Conservation Activist.
Speaking at this week's launch in Colombo of Sri Lanka's Carbon Consulting Company, of which he is a director; he also noted existing emissions in the atmosphere would eventually result in a two degree rise in the planet's surface temperature and a half-metre rise in the world's sea level. He also suggested that, while there was a 50% chance of climate change being caused by emissions rather than it being a natural phenomenon, similar odds of 50% offered to anyone embarking on an airplane journey, which would allude to them possibly not arriving safely at their destination, would result in nobody wanting to fly.
Meanwhile, according to Jonathan Shopley, Managing Director of CarbonNeutral Company, the UK-based company for which Carbon Consulting Company is an approved reseller of carbon offsets and certification; trends by insurance companies have proven to be good indicators of the future of an issue and climate change forecasts have resulted in flood insurance cover being withdrawn from 20% of all territories.
Also revealed was that, while several companies had expressed interest in working with Carbon Consulting Company, intimates manufacturer MAS Holdings, tea exporters Easwaran Brothers and Galle-based boutique hotel Kahanda Kanda had already signed on as customers.