Fearing changes in import taxes on vehicles in next month's budget, the Customs Department with limited officials at its imports section has been swamped with around 400 to 500 applications to clear vehicles in recent days.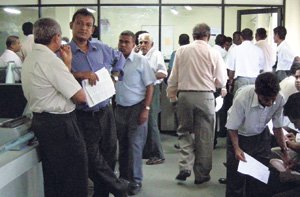 Vehicle importers wait at the Customs Office.
According to Sri Lanka Customs data, vehicle imports have risen sharply after import duties were slashed in June this year with around 450 to 500 vehicles being cleared daily by Customs.
"Customs officers are having a hard time to tackle the heavy rush of representatives of vehicle importers and wharf clerks who are in a hurry to clear the vehicles," one official at the imports section said on Tuesday.
The reason for the rush may be the heavy importation of vehicles by importers anticipating a tax hike in the 2011 budget. But the Ministry of Finance and Planning announced that there will not be any revision to the tax relief given to import motor vehicles and other related items.
A senior official said Customs has extended the time period for clearance of goods and accordingly, clearance operations would take place until 8 pm on week days and till 4 pm on weekends. The aim of this move is to expedite the clearance of motor vehicles, he said adding that at present clearing of goods stops at 4 pm on weekdays and on weekends the offices are closed, he said.
The government slashed the taxes on car imports by 50% with effect from June 1 in response to the request of the importers who lamented that vehicle imports had come down by 90% last year due to high taxes levied. One of the objectives of reducing import tax was to raise tax revenue by encouraging more vehicle imports. Earlier cars were subjected to as much as 300% tax through excise duties, import duties, value added taxes, port and airport development levies and national security levies in addition to the 15% surcharge on all imported items.
Tax revenues from vehicle imports have risen sharply by more than three-fold after the import duties on vehicles were slashed, Director-General for Fiscal Policy of the Ministry of Finance and Planning S.R.Attygalle told the Business Times.
He said the government has earned around Rs.6.2 billion up to September since July this year after import taxes were slashed. Vehicle import tax revenue in July alone was Rs.1.7, August Rs.2 billion and September around Rs.2.5 billion, he said.
A large number vehicles have already imported resulting in a heavy rush at the customs for clearing it by paying taxes, he said. The government earned only about Rs. 500 million in May, before the tax cut.
The Motor Traffic Department said import of cars has increased significantly with the reduction of vehicle import duty. According to Department statistics, 5,762 cars were registered by the Department last year while the Department registered more than 4,079 cars up to August 1 this year. The department expects the total number of new cars to be increased by upto around 8,648 this year from last year, a Department source said. A record number of 185,595 new motor vehicles have been imported during the first seven months of this year, he said.