Questions are being raised over business tycoon Harry Jayawardena's continuation as a director of HNB after a series of events this week relating to a related company which sold its stake in the bank.
Earlier this week CBD Exports, connected to Jayawardena's Stassen Group, sold its 8% stake in HNB but faced a lawsuit later in the week from CBD shareholder Stanley Perera.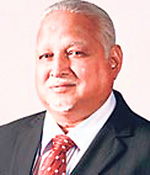 Harry Jayawardena
Though Mr Perera owns a 60% stake in CBD, it is widely known that this stock is indirectly owned by Mr Jayawardena. Mr Perera, at Mr Jayawardena's bidding sought to challenge the sale and stop it but the Commercial High Court refused the application on Thursday. Now Mr Jayewardena's position on the HNB board is in jeopardy owing to a statement that he made this week relating to the CBD issue.
About three years ago Mr. Jayawardena had submitted an affidavit to the Central Bank (CB) saying that he doesn't have any material interest in CBD after the regulator sought clarification on HNB shareholdings as they have a directive on a 10% threshold per shareholder in a bank, a legal source said.
He said that at an EGM held last October, (which was held to ratify some articles of association pertaining to CBD) Mr. Jayawardena had recognised himself as the chairman on a suggestion by Mr. Perera's proxy holder. "The other three directors of CBD – Zaki Alif, Raj Obeysekera and Sonia Weinman had walked out of the EGM by this time. His chairmanship was not ratified nor lodged in the Company's Register which by law is required," the source said.
On Monday, October 4 Mr Jayawardena wrote to the Colombo Stock Exchange (CSE) claiming to be Chairman of CBD Exports and that the sale of its stake in HNB is illegal.
The source pointed out that Mr. Jayewardene has not entirely told the 'whole' truth as he had earlier indicated that he has no interest and now says he has an interest in HNB.
"I am made aware that the HNB shares owned by CBD Exports have been lodged at the Central Depository System (CDS) by persons who are unauthorized to do so and offered for sale," Mr Jayawardena's letter to the CSE said.
"This is an illegal transaction. The present board is now in occupation and I would request you to take immediate action to any transaction taking place at the CSE for the sale of these shares," he has said in this letter which was also copied to the Securities and Exchange Commission.
None of the parties connected to the latest developments could be reached for an official comment.
The Business Times learns that the three directors of CBD in turn on Tuesday wrote to the CSE and the SEC saying that Mr. Jayawardena is trying to clearly 'mislead' the authorities and that he's neither the chairman nor a shareholder.