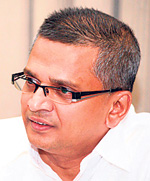 Ranjit Page takes charge of CT/Cargills group
Ranjit Page, the main driver of Cargills' phenomenal growth in the 1990s to now, on Thursday was appointed Managing Director of the Ceylon Theatres Plc (CT), the holding company for many of its subsidiaries and associates including Cargills Plc. Informed sources said the appointment effectively gave Mr Page full control of the group and its entitities.
His elder brother, A. A. (Baba) Page is non-executive Chairman of Ceylon Theatres Plc. The new appoinment was approved by the CT board. The younger Page has relinquished day-to-day work at Cargills where he is Deputy Chairman/CEO while.
Imtiaz Wahid, a long-standing employee, took over as Managing Director/Deputy CEO some months back. The sources said he has spent most of his time in re-organisation of the holding company and looking at new business interests.