To coincide with the Asia-Europe Summit Meeting (ASEM8) which took place in Brussels from 4-5 October, a multi-faceted "Sri Lanka evening" which centred around a Sitar recital by Pradeep Ratnayake and ensemble was held at the Palais des Beaux Arts (BOZAR) in Brussels on October 2, the Sri Lankan embassy said.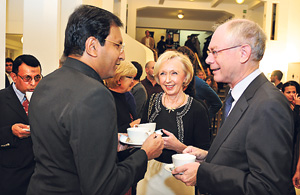 Picture shows Van Rompuy drinking tea in the company of the Sri Lankan Ambassador, Hony. Consul for Sri Lanka in Belgium Monique De Decker-Deprez and R.D.S.Kumararatne, Minister (Economic & Commerce).
The Belgolux-Sri Lanka Business Council organized the event attended by over 400 persons. It comprised of a trade display focussing on tea and spices, providing an opportunity for the guests to taste a cup of Ceylon tea from the varieties of teas displayed. President of the European Council Herman Van Rompuy and Madam Van Rompuy participated as the Guests of Honor on this occasion.
Sri Lanka's Ambassador to Belgium, Luxembourg and the EU Ravinatha Aryasinha said he hoped that the event would serve as an appetizer, in encouraging those attending the concert to also explore Sri Lanka in greater depth – as policy makers, diplomats, scholars, traders, investors and tourists. Belgium represents the third largest market in the 27 countries of the European Union and also the fourth in terms of the investment from countries in Europe.