Standard Chartered, which went through troubled times during the oil hedging crisis two years back and is now suing the CPC for payment in an overseas arbitration suit, this week announced Anirvan Ghosh Dastidar as Chief Executive Officer, Sri Lanka.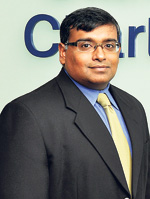 Anirvan Ghosh Dastidar
Mr. Dastidar has been working in Sri Lanka since March 2008 as Head of Consumer Banking and has been a member of the Bank's local Management Committee. He has held a variety of senior positions during his 18 year career with Standard Chartered Bank. Prior to his role as Head of Consumer Banking in Sri Lanka, he was the Business Head for the Priority Banking business at Standard Chartered Bank, India.
He has also held positions which include being the CEO Representative and Regional Head for Consumer Banking in Eastern India.
Commenting on the new appointment, Neeraj Swaroop, Regional Chief Executive Officer for India and South Asia said, "Anirvan is one of our most experienced and client-focused bankers. He is a great asset to the management team of Standard Chartered Bank, Sri Lanka, and I am delighted that he is taking on this important role."