Perhaps the single most important highlight of my undergraduate life was getting an opportunity to present a paper at the South Asian Students' Economics Meet (SAESM) in 2008 when it was India's turn to host it.
SAESM is a conference that brings together aspiring economics undergraduates from Sri Lanka, India, Pakistan, Bangladesh and Nepal, providing a much needed platform to engage in an academic discussion on a specified set of topics that bring out pressing issues of the region as well as strategies to overcome them, and drive regional growth and development.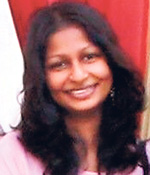 Ranmini Vithanagama
SAESM was important to us participants in many different ways. On the one hand, taking part in an international conference representing the country was a prestigious and a heartening experience. On the other hand, it was absolutely crucial that the papers we presented were of the highest standard we could possibly achieve, for we were fully aware that we would be competing against the cream of the budding economists in the region.
The entire process from choosing a topic to prepare a piece of research work, to working on the final touch ups of the completed paper was, to put in a nut-shell, was a hectic, but also a very rewarding, experience.
The true beauty of the conference was through the fact that for each paper presented, there was an animated and an enthusiastic audience. The questions at the end of every paper presented gave me the re-assurance that the students really cared about the content in the presentations, and that they wanted to know more about it, ask questions, and where appropriate even suggest solutions.
It was heartening to see such regional unison within the walls of the conference room. The insightful suggestions, comments and advice from the experts who chaired each session, as well as the judges only added to enriching the whole experience. SAESM is not only about presenting papers. It is also about enjoying time with your South Asian peers.
After two days of serious academic discussions, the trip which follows is an event much looked forward to by all SAESM participants. This is also the tme when the undergraduates really get to bond in friendship, sometimes, for life. I still fondly recall the long, fun and culturally enriching trip to Jaipur, Rajastan and Agra. I was particularly touched and enthralled by the colourful Indian culture, which in so many ways felt close to my heart as a Sri Lankan.
Any note on SAESM would be incomplete without a note on Prof. Sirimal Abeyratne, Sri Lanka's country coordinator for this conference. He has been the pillar of strength behind the success of our teams year after year, giving us guidance and mentorship in everything from writing papers to securing funding to the most demanding task of organizing SAESM in Sri Lanka, never losing his characteristic cool even when the going did get tough sometimes.
It's been over two years now since I took part in SAESM, but the memories of those 10 days are crystal clear when we competed against each other in the region, we learned from each other and we enjoyed a trip around the country together and made friends. For me, SAESM is an event that is more than a scholarly gathering in the form of yet another academic exercise. It is, in fact, a silent and unassuming platform on which we South Asian economics students build mutual friendship, understanding and harmony, where we, in unison, make a conscious effort to bring about prosperity to our South Asia. I wish SAESM every success.
The South Asian Economics Students Meet - SAESM - will be held in Colombo from November 29 to December 4.
(The writer is a former student of the University of Colombo and a former participant at the South Asian Economics Students Meet. She presently works as a Research Analyst at NDB Stock Brokers Ltd.)