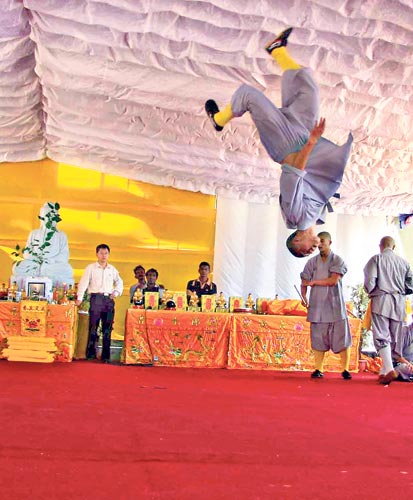 Chinese kung fu monks who are in Sri Lanka to give their blessings to the controversial Norochcholai coal-fired power plant displaying their kung fu skills on a stage near the power station. Pic by Hiran Priyankara
Classical grace
Classical Indian dancer Rama Vaidyanathan danced with expressive grace for the celebration of one of Sri Lanka's leading newspapers --the Virakesari's 79th anniversary. 'Colours of Rhythm II', her show was held at the Galle Face Hotel on Monday, August 17. Rama is considered one of the leading exponents of Bharatha Natyam in India today.
Jaffna ready for huge investments
Jaffna's business community is making an earnest appeal to the government to allow it to take a leading role in the post-war development of business and industry in the region.
Balochistan burning: Great Game over Gwadar Port
While the world media attention Pakistan has been receiving in recent months is largely centred on Islamabad's military operation against the pro-Taliban militants in the North Western Frontier Province and the Federally Administered Area (FATA), the country is also beset by a low-key but potentially dangerous insurgency in Balochistan.
An education system designed for global markets and thinking
A post conflict society needs to move quickly from military confrontation to peace building. Social stability is the foundation for economic progress. Economic prosperity is predicated on many different inputs, of which human resources is the most important.
Bugged Kiwis purged!

As expected, Sri Lanka registered a quite a massive 202 run win over New Zealand at the Galle International Stadium twenty minutes before tea on day five to go one up in the two match series.
Politicians selling beach land in east
Navy guards have been deployed in a strategically located plot of prime beach land at Uppuveli in Trincomalee after reports that local politicians were selling them in lots under fake deeds. The move, the Sunday Times learnt, surfaced after politicians linked to the Eastern Provincial Council and the Municipal Council in Trincomalee had reportedly sold 25 blocks of 15 perches each.
Lankan Tony kingpin in Thai airport scam
At least 2,000 Sri Lankans travel from Colombo to Thailand every week for business or leisure. Most are, however, unaware of the dangers that lurk when they arrive or depart from that country's main gateway to the world.
Bulls in chinashop
The party-system has been the subject of debate since multi-party democracy was introduced. Many of a country's domestic problems are placed at its door.
A spoke in the police wheel- Political Column

That the image of the Police Department, one of the main instruments that extend the Government's writ countrywide, had hit a new low was cause for serious public concern this week.
'I regard myself as a Rajivist'

Rumour has it that a CD featuring a photograph of Mani Shankar Aiyar welcoming President Mahinda Rajapaksa to his daughter's wedding, juxtaposed with alleged atrocities committed by the Sri Lankan government during wartime, was what led to the Indian politician's defeat in his constituency Mayiladuthurai in Tamil Nadu in the 2009 elections. But in a political career spanning over two decades, India's first Consul General to Karachi, Rajiv Gandhi's former speech writer and India's first Minister for Panchayat Raj, has learnt to take losing at the polls with good grace

.
The end of Jaya Bandara
Time dragged on. The fighting did not stop. It became fierce, instead. Both were furious. No one, in the crowd could separate the two. They watched silently in surprise. Suddenly Prince Veediya Bandara jumped a few feet backwards, to dodge a powerful blow coming from Jaya Bandara.
MOST VIEWED ARTICLES




LATEST NEWS