TRIPOLI, Saturday, AFP- Libya feted freed Lockerbie bomber Abdelbaset Ali Mohmet al-Megrahi ignoring Western fury at his hero's welcome, and poured oil on the fire by accusing Britain of seeking commercial advantage.
Libyan newspapers carried front-page photographs of the homecoming of Megrahi, the only person found guilty of involvement in the deadly December 1988 bombing of Pan Am Flight 103 over the Scottish town of Lockerbie.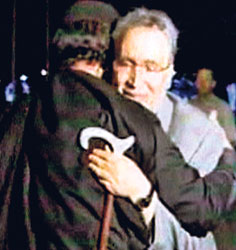 Libyan leader Muammar Gaddafi (L) hugs convicted Lockerbie bomber Abdel Basset al-Megrahi in Tripoli in this August 21, video grab from Libya TV.
State-owned daily Al-Shams hailed "the victorious return of the hero" who was freed on compassionate grounds by Scottish authorities on Thursday in the face of terminal prostate cancer.
"The freed hostage has returned to his homeland and his family ... after 20 years of suffering, half as an accused person and half as someone unfairly convicted of a crime he did not commit," the paper said.
At Megrahi's home in the upmarket Damascus neighbourhood of Tripoli, his family were receiving well-wishers on Saturday in a lavish tent set up outside.
In line with custom in the ultra-conservative country, men were greeted in the marquee and women in a large reception room inside the substantial villa, a Libyan journalist told AFP.
Libyan leader Moamer Kadhafi met Megrahi late on Friday and praised Scottish authorities for their "courage" in authorising his release in the face of virulent opposition from the US government.
Libyan television showed images of him embracing the convicted bomber.
US President Barack Obama has called the red-carpet reception "highly objectionable," while his spokesman Robert Gibbs denounced an "outrageous and disgusting" display. Hundreds of flag-waving well-wishers cheered Megrahi upon his arrival in Tripoli, despite warnings by the United States that a public celebration might damage relations that have been improving since Libya renounced terrorism and its pursuit of weapons of mass destruction in 2003.
Meanwhile, Kadhafi's second son, Seif al-Islam, drew an angry response from Britain by charging that it had long offered to review Megrahi's incarceration in return for lucrative trade deals.
"In all commercial contracts, for oil and gas with Britain, (Megrahi) was always on the negotiating table," said Islam, whose Kadhafi Foundation financed Megrahi's legal defence and who travelled to Scotland to bring Megrahi home.
"All British interests were linked to the release of Abdelbaset al-Megrahi," he added in the interview with Libya's Al-Mutawassit television channel taped on the return flight and aired on Friday.
But Kadhafi Foundation director general Yussef Sawan said on Saturday the decision to free Megrahi "was an independent decision taken by the Scottish government with total objectivity ... and solely on humanitarian grounds.""We do not think there is any way of concluding that the decision by the Scottish authorities was taken for any other reason than a humanitarian one,"he told AFP.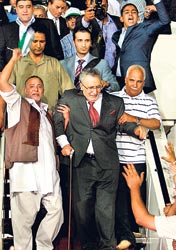 A handout picture obtained from Oya newspaper shows Libyans greeting freed Lockerbie bomber Abdelbaset Ali Mohmet al-Megrahi (C), upon his arrival in Tripoli late on August 20. AFP
Megrahi, who has always maintained his innocence, told The Times newspaper in an interview conducted at his home that he will present new evidence through his Scottish lawyers that will exonerate him.
"My message to the British and Scottish communities is that I will put out the evidence and ask them to be the jury," he said, refusing to elaborate.
The father of one of the British Lockerbie bombing victims said he was still seeking the truth behind the terror attack.
Jim Swire, 73, whose 23-year-old daughter Flora was among the 270 people killed, applauded the release of Megrahi, saying he believes him to be innocent.
"I am a Christian, so I would hope that, even if I was convinced that Megrahi was guilty, my Christian compassion and forgiveness would extend to wanting to see him die with his family around him in Libya," he told The Daily Telegraph newspaper.
FBI director blasts release of Lockerbie bomber
WASHINGTON, saturday (AFP) -The director of the Federal Bureau of Investigation has blasted Scotland for releasing Lockerbie bomber Abdelbaset Ali Mohmet al-Megrahi saying the decision "gives comfort to terrorists."In a letter to Scottish Minster Kenny MacAskill dated August 21, FBI Director Robert Mueller said he was "outraged" at the decision to release Megrahi, who is dying of cancer, on compassionate grounds.
"Your action in releasing Megrahi is as inexplicable as it is detrimental to the cause of justice," Mueller wrote. "Indeed, your action makes a mockery of the rule of law.
"Your action gives comfort to terrorists around the world who now believe that regardless of the quality of the investigation, the conviction by jury after the defendant is given all due process, and sentence appropriate to the crime, the terrorist will be freed by one man's exercise of 'compassion.'"