KABUL, Saturday (AFP) -Observers Saturday highlighted cases of fraud in Afghanistan's elections and said voting was not universally free due to violence and intimidation as speculation mounted about a possible run-off.
The top contenders in the race both claimed they were heading for victory after the second ever presidential election, which was acclaimed by the West but undermined by growing complaints of ballot-stuffing and low turnout.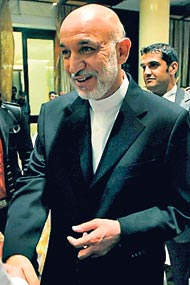 Afghan president Hamid Karzai (R) greeting journalists during a dinner with presidential candidates at a luxury hotel in Kabul on Saturday. The Independent Election Comission (IEC) invited all presidential candidate for dinner at the hotel in a show of 'tolerance' after a difficult campaign for the elections. However Karzai's main rivals did not attend. AFP
Definitive results are not due until next month, leading Afghan and Western officials to call for calm as President Hamid Karzai declared a win and his main rival, ex-foreign minister Abdullah Abdullah, insisted he was ahead.
The election may have been hailed a success in foreign capitals, which have pumped billions into Afghanistan since the 2001 US-led invasion and deployed 100,000 troops to contain a Taliban insurgency, but concerns have mounted.
"Free was not the case in some parts of the territory due to terror installed," said the head of the EU observation mission, Philippe Morillon.
"Generally what we have observed was considered by our observers with our methodology good and fair," he added, but reserved judgment on whether the polls were credible, saying "a lot of complaints" would take time to evaluate.
The EU observers also raised concerns about the Independent Election Commission (IEC), quoting reports that the commission exerted pressure on its staff in a manner which raised questions about its impartiality. One foreign official said the Election Complaints Commission had so far received 100 formal complaints about irregularities, including "allegations of ballot-stuffing in Kandahar".
Leading local monitors, the Free and Fair Foundation of Afghanistan (FEFA), mentioned cases of intimidation, multiple and under-age voting, fraud, ballot stuffing, partial election commission staff and polling centres closing early.
"Our observers saw two voters whose fingers, with the ink, were cut off in Kandahar. We don't know who was responsible but we do know the Taliban did threaten this," said Nader Nadery, chairman of FEFA.
A spokesman for the militia, whose insurgency against the Western-backed government and foreign troops is now at its deadliest, denied the claims.
Independent observers say turnout in the south may have been as low as 10 percent and 25-30 percent for the hotspots of Kandahar and Helmand respectively, due to violence and a Taliban-led campaign of intimidation.
"They (the Taliban) were able to depress turnout in the south, in some areas below expectations," said one foreign official.
US President Barack Obama hailed the elections as an "important step forward" for the war-torn nation and his special representative for Afghanistan and Pakistan, Richard Holbrooke, was conducting a series of meetings.
Holbrooke, who arrived on Wednesday for one his longest visits since taking office, held meetings with diplomats and officials, and Friday met Karzai, Abdullah and election outsider Ashraf Ghani, said a US embassy spokeswoman.
Abdullah ran an energetic campaign. His claims of success, coupled with poor turnout in Karzai's powerbase in the south, have boosted prospects of a run-off, which would take place in early October.
"The question now is whether Karzai, who controls the electoral commission, will be willing to accept a second round. That was one of the issues of his meeting with Holbrooke," said one diplomat on condition of anonymity.
Western backers of Karzai's government have urged presidential candidates to refrain from premature announcements, respect the electoral process and for their supporters to keep calm.
The IEC chief, Azizullah Lodin, told AFP late Saturday that turnout figures could be available within four days and final results in two weeks.
Abdullah has a powerbase in the north and Karzai in the south, divided among the Tajiks and the Pashtuns -- the two largest ethnic groups in Afghanistan, which is still suffering from decades of war and devastating civil conflict.