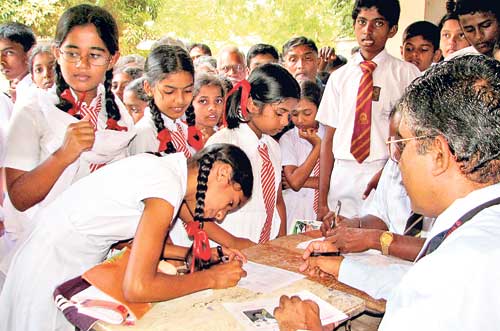 Hundreds of students in Vavuniya rushing to a mobile service set up by the government yesterday to obtain their Postal Identity Cards. Vavuniya residents and students say usually it takes months to obtain the identity cards. Pic by Priyantha Hewage.
To hear and see those old tales
Remember the well-known folk stories like Thoppi Wellendek Dawasak and Eloven Aa Amuthek which kept not only children rolling with laughter but also adults unable to subdue a smile?
'SLI Mismanaged under Harry J'

Sri Lanka Insurance Corporation, better known by its acronym SLI, is planning weekly board meetings, re-assigning responsibilities to staff and offering a VRS (Voluntary Retirement Scheme) under a new structuring plan following large scale mismanagement at the organisation

.
Gulen, a modern Ottoman, taking Islam back to Turkey
Young couples smooching in public, midnight discos, belly-shaking scantily-dressed female dancers, mini skirts, tight jeans and alcohol remind a visitor to the Turkish capital Ankara that he is not in a conservative Muslim country.
Selection and retirement policy
Recently there was this news item that some of the Mahendra Singh Dhoni disciples had decided to build a shrine in his honour and in another incident there were almost riots in the Kolkata region when former Indian skipper Sourav Ganguly had some problems with the country's cricket administration.
Another fuel blunder
The government has been forced to import fuel at higher prices in recent weeks after an Indian importer picked by the Ministry of Finance defaulted on shipments. This is likely to add to the cost of living despite recent pronouncements that inflation has fallen to a single digit.
Check points for malaria

Health officials say there is a possibility of malaria spreading in the country when soldiers who were engaged in jungle operations in the North and the East return to their hometowns, following the conclusion of the war.
Stay with NAM, but don't damn the West
The President of Sri Lanka leaves next week for the Non-Aligned Summit, but not many really know that it is being held in the port-city of Sharm-el-Sheik of Egypt, and even if they did, not many would probably care.
Referendum on 'political solution'
- Political Column
It is now official. President Mahinda Rajapaksa declared this week that the enforcement of the 13th Amendment to the Constitution - part of political proposals to address Tamil grievances - would not be introduced in Parliament until the conclusion of the next Presidential elections as exclusively revealed in these columns last week.
Helping to heal the many wounds

All of them come or are brought to the Accident Service of the National Hospital in Colombo bruised and broken. Some are conscious and in pain while many are unconscious, having suffered major trauma, be it an accident or an incident

.
The great sea battle
The inner city of Kotte was surrounded by a wall. According to the organization of Nuno Prayer de Andrado, security was tough on all the entry routes to the city. As such, it was difficult to gain entrance.
MOST VIEWED ARTICLES




LATEST NEWS