A police crackdown on the Colombo criminal underworld, especially on gangs operating in Maligawatta, is under way, but sources say progress is being hindered by people in power who are tipping off the gangsters.
The Colombo Crimes Division (CCD) has been investigating the criminal syndicates for years, and has identified persons responsible for killings, abductions, extortions and the distribution of narcotics.
CCD detectives are currently interrogating key underworld figures who were arrested recently. Meanwhile, a hunt is on for three notorious gang leaders – identified as Faji, Azmi alias Mama, and Baiya.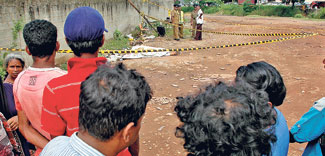 The scene of one of the latest mafia killings in Colombo. Rival gangs are waging war, while residents look on helplessly.
CCD director SP Vass Gunawardena told the Sunday Times that several gang leaders are evading arrest.
"These criminal elements have been terrorising Maligawatte for a long time, causing great hardship to the residents," SP Gunawardena said. "We have evidence relating to their criminal activities, and the gang members in custody have made confessions. The investigations are continuing. We are in the process of finding out where these gang members hang out. Some of them have fled the country, but that that won't stop the investigations. We are making every effort to bust these gangs."
Last Thursday two gang leaders, rivals of Faji, were found dead, one in Pettah and the other in Maligawatte.
The bullet-riddled body found on Old Moor Street, Pettah was identified as that of M. K. Imtiyaz, alias Anamalu Imtiyaz, a notorious gangster who had been dominating the Maligawatte area for some time.
Two months ago Imtiyaz left his Maligawatte home, vowing to return and regain his turf, now dominated by Faji. According to the police, Imtiyaz was reported missing from Kuliyapitiya last Tuesday.
Imtiyaz's funeral was held on Thursday night, amidst heavy security. It is reported that members of Faji's gang were present at the funeral.
Meanwhile, Faji remains at large and continues to control the Maligawatte underworld. Police sources say he has been running a large-scale extortion racket. One source of revenue are the monies that Faji's men are squeezing from mosques in the area.
Fund-raisers are another source of revenue. Sources say Faji demands invitations for all such charity events held in Maligawatte. On Faji's orders, his gang members are named as donors on the invitation lists.
Despite repeated attempts to close in on the Maligawatte gangs, the police have had little success so far. According to police sources, Faji and his men are tipped off every time the police plan a raid.
Speaking on condition that his name not be mentioned, a Government party member living in the Maligawatte neighbourhood said gang members such as Faji were enjoying the protection of a few United People's Freedom Alliance (UPFA) politicians based in the area.
"There are some UPFA politicians who are helping the gangs," he said. "The gang members can move about freely and do anything they want. They seem to be above the law. This is a dangerous trend. Every time a safe house is raided, the gang members are missing. They are tipped off. This is bad for the Government's image."

CCD director, SP Vass Gunawardena
As conditions in Maligawatte continue to deteriorate, the authorities are looking at extra-effective ways to restore law and order in the besieged neighbourhood. Recently, the Army was called in to help out.
The Sunday Times learns that some three weeks ago soldiers clad in civvies had turned up at a Faji stronghold on Jumma Masjid Road, Maligawatte and precipitated a fight with Faji gang members, using clubs.
Not realising their assailants were soldiers on an operation, other Faji gang members rushed to the scene, carrying an assortment of weapons, including assault rifles and guns. While they were holding the soldiers at gunpoint, backup reserves of soldiers in uniform cordoned off the area, sealing off both ends of Jumma Masjid Road. Several Faji gang members were arrested.
The raid was preceded by a similar raid, on June 23, when a team of 300 armed officers, including 200 policemen and 100 soldiers, searched Maligawatte premises believed to be haunts of the Faji gang.
Government media spokesman Minister Keheliya Rambukwella told the Sunday Times that just as the Government defeated the LTTE, on a Presidential directive, it would deal with the underworld gangs.
"The President is aware of what's going on and wants action taken," the minister said. "The orders are coming from the very top, so law enforcement officers are not afraid to act. The gangs shouldn't expect their friends in the Government to come to their aid for much longer."