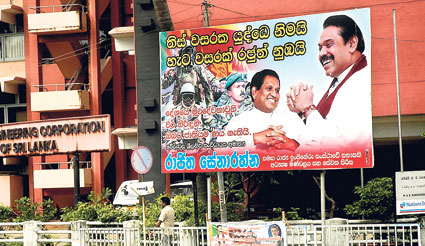 Writing on the wall: Bill boards have sprung up in Colombo city and outstations with the slogans that President Mahinda Rajapaksa should continue to remain as the President. Our phorographer captured one such city billboard saying the president who won the 30-year war should be the king for 60 years. Pic by Saman Kariyawasam
A new song and a new style
When young Noel Brian Ranasinghe and his band got into coloured sarongs, straw-hats and with bare feet sang a strange kind of baila, it was not unusual for people to call them all sorts of names
The Middle East in motion
I do not know why but the fact remains that India-America relations are better under the Republicans than the Democrats. Idea-wise or ideology-wise, Indians should feel closer to the latter but it does not happen that way.
RISING LIKE A PHOENIX
Sri Lanka and Pakistan have emerged triumphant from the horror of Lahore last march when gunmen attacked the Sri Lankan team
Walking in water
It's a swimming pool in the heart of Colombo 7, the NCC to be exact, and in the last lane instead of swimming one person is walking, gingerly raising his feet, one step at a time while another is jogging in the water.
Move for President to stay on without polls

The government proposes to introduce constitutional amendments aimed at extending the term of office of President Mahinda Rajapaksa, without holding a presidential election, Minister Janaka Bandara Tennakoon told the Sunday Times yesterday.

New flu : Don't panic, but be prepared

As four children confirmed with the influenza infection AH1N1 and several more suspected cases were isolated at the Infectious Diseases Hospital (IDH) at Angoda, both national and international health authorities urged the public not to panic but be alert, assuring that systems were in place in Sri Lanka to face this pandemic

.
Don't digress from the middle path
A new post cold war world order is taking shape nearly two decades after the collapse of the Soviet Union, and the subsequent ascendency of Russia and China in international affairs.
Lanka's dual track foreign relations
-Political Column
Moments after the cabin door connected to the air bridge, weary passengers emerged to walk past equally weary security officials. One of them in a trouser and jacket was greeted by consular officials of the Canadian High Commission in Colombo.
Raring to go but not quite so

After several false starts, finally, Sri Lanka officially has a railway museum. That is the good news. The bad news is that though it was officially declared open last month,
MOST VIEWED ARTICLES

LATEST NEWS