'Super Star', 'Dancing Star', 'Comedy Star', 'Shadow Star' the list goes on and on. At a time when society has gone crazy with stars and heroes of various reality TV shows, young filmmaker Thisara Imbulana has selected very apt theme for his debut direction 'Nino Live'.
Woven around a girl who gets mad over reality television and messes up her real life, the debut film is undergoing its post-production phase now.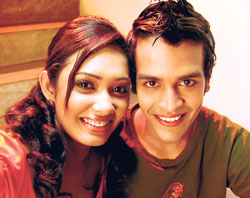 A scene from Nino Live
Produced by Sahil Gupta, an Indian colleague who studied cinema with him at the Asian Academy of Films and TV, New Delhi, 'Nino Live' is a romantic comedy that could be watched and enjoyed by the whole family.
The film stars a young and upcoming cast including Nino Araliya Jayakody, Ureni Noshika, Umali Tilakaratne, Dasun Pathirana, Steve de la Zilva, Chandani Seneviratne, Bandula Vithanage and Kingsley Rathnayake.
"My main purpose in making films is to entertain the masses. However this does not mean dishing out low quality trash that are being done without even the basic technology of cinema," Thisara said.
"For the survival of any entertainment industry it is vital to have a strong main stream cinema whilst other alternative cinemas could be developed around the mainstream," the young filmmaker said highlighting the importance of popular cinema.
Asked about his target audience, Thisara said "I make films for the Sri Lankan audience who are representatives of this society,".
It's true that the cinema is a universal language, but the instances through which we can touch our audience more effectively are limited. Identifying this limitation is an important task of a filmmaker, he said.
Among the technicians joining him is Channa Deshapriya as cameraman, Iranthi Abeysinghe as line producer, Indika Udara Lanka as make up artiste, Lucky Wijewardena as art director, Sanka Dineth as musical score director and Duminda Silva as editor.
Thisara's tour through theatre

Director Thisara
A student of science at Mahanama College, Thisara was trained by well-known actor Mahendra Perera at a workshop conducted by him. Having completed the Filmmaking Diploma conducted by the National Film Corporation in 2005 Thisara got on to the stage instead of the screen.
His theatrical productions 'Kellak 250' (One piece 250) and 'Thathagatha Kolama) were nominated at both Youth Drama Festival and State Drama Festivals.
Thishara then entered the cinema directing 'Zero', a short film which competed at the Guirilla Film Carnival and was chosen as one of the three best films. The young director also made films for Bonuore Film Festival held here and with these directions he was awarded a six-months scholarship to study at the Asian Academy of Film and TV. There out of 30 short films, his direction 'Proooot' was selected by the audience as the most popular film.