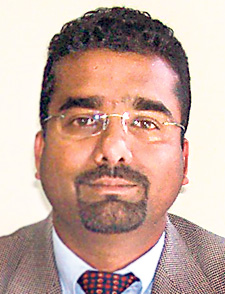 Mr. T Soumyraj - Chairman - Wisdom Business Academy
Academy - the CIMA institute trusted by countless numbers of students as well as top-notch employers now gears itself for the Managerial and Strategic level sessions in a new-and-improved sense. Having established back in 2002, Wisdom has in its resolve to provide solid academic assistance to students of CIMA, evolved to become a key supplier of management accountants into the job market. This comes with its holistic approach to grooming its students both academically - in the classroom; and socially - out of the classroom with its dynamic Student Council Body, which it terms as "beyond education experience".
Wisdom continues to maintain a reduced course fee structure for the second consecutive session in response to the financial challenges faced by its students; post a survey it conducted on its student database. This decision falls in line with the institute's "commitment to learning and aspiration for students to follow the syllabus of the Chartered Institute of Management Accountants (CIMA) up to completion", stated Mr. T. Soumyraj - Chairman, Wisdom Business Academy. Commenting on the announcement, Mr Soumyraj continued to explain: "What was found by way of a survey conducted on their existing student population is that the current economic crisis is causing immense pressure on the parents of these students as well as themselves in making payments for tuition fees, which, when done, had been at an opportunity cost to basic requirements of daily living". Having implemented a reduction of course fee of Rs. 15,000/= for all three subjects, this value-for-money proposition is centered on the fact that knowledge supersedes profitability, as stated by Mr. Soumyraj.
In keeping to this finding, Wisdom possesses the endurance muscle to sustain and deliver the same levels of service and in doing so, remains focused to maintain its status as the breeding ground of CIMA professionals.
Wisdom records an annual enrollment of 6,000 students, who are attracted by its panel of lecturers that is arguably the most effective teachers of the CIMA syllabus. "Wisdom adopts a stringent procedure of training and evaluation of its lecturers, so as to maintain the delivery of the quality of its lectures. Lecture scrutiny is not limited to the administrators of the institute alone, but also to each student, as its first customer." Mr Soumyraj further states. The institute distributes lecturer feedback forms to its students that present a forum for them to grade their lecturers on presentation style, theory explanation, application of theory, number of questions done, discussion of questions, subject coverage, interaction with students, exam skills & techniques and punctuality.
The lecture panel offers an uninterrupted coverage of this syllabus that is completed at least two months before the scheduled exam date(s) and a revision programme that summarises the syllabus is always on offer with two mock exams that are marked and evaluated both before and after syllabus completion. In addition to this, at least ten past papers are discussed in the classroom, prior to the exam.
Wisdom added more Prize Winners to its prestigious "Hall of Fame", by producing 05 Sri Lanka prize winners out of the 10 subjects at the last CIMA examinations in November 2008. Since its inception, Wisdom has produced 7 world prize winners and 71 Sri Lanka prize winners. In addition to this the pass rates at the November 2008 Examinations have been exceptional. According to the official results released from CIMA-UK, the pass rates of Wisdom at the November 2008 CIMA Examinations, have far superseded the pass rates for World, UK and Sri Lanka. In being appointed a Learning Quality Partner by CIMA-UK, Wisdom honours its terms and conditions of not publishing the actual pass rates for promotional purposes and instead strives to live up to its vocation of turning out true professionals.