Metropolitan College, Dehiwela, the leading organization which offers numerous good opportunities for students, to receive higher educational qualifications at affordable prices at various Universities and Colleges around the world, recently signed up a valuable agreement with the Girne American University.
On invitation by Girne American University, the founder and Chairman of Metropolitan College Mr. Mohamed Siraz, recently visited this prestigious American University. The Chairman was greatly honoured and was treated to a feast of absolute hospitality during his visit.
This valuable agreement enables Metropolitan College (MC) to conduct degree and Master's Degree programmes, locally at the College in Dehiwela, Sri Lanka, thereby enabling the local students, a valuable opportunity to gain prestigious internationally recognized undergraduate/postgraduate degree qualifications, at a fraction of the original cost. These programmes include:
B.Sc in Psychology
B.Sc in Business Administration
B.Sc in Computer Engineering
B.Sc in Tourism and Hospitality Management
BA in Arts in English Language Teaching
Masters in Business Administration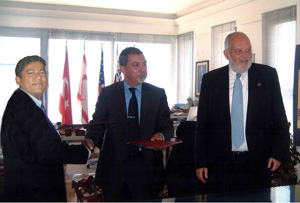 Exchange of agreements between Mr. Mohamed Siraz Chairman of Metropolitan College & Mr. Serhat Akpinar Chancellor at Girne University and Prof. Dr. Shel Hulac Director of International Operations at Girne
All degrees are of four years whilst the MBA is 1½ years long. Entry requirements to the degree are Advanced Levels and into MBA are undergraduate degrees or professional qualifications. The new programmes are already proving to be quite popular with the local students and professionals as Girne American University is recognized by University Grants Commission (UGC) Sri Lanka. The Girne Amercian University has over 100 undergraduate and postgraduates programmes on offer and MC is intending on introducing more of it in future in Sri Lanka.
Metropolitan College's Diploma and Higher Diploma programmes have long gained worldwide recognition as both the diploma/higher diploma courses have been long recognized by the Territory and Vocational Education Commission (TVEC) of Sri Lanka. Thus the students can gain direct entry into a degree course through it's diploma/higher diploma qualifications locally or internationally especially for the purposes of migration to 2nd and 3rd year degree transfers at Universities abroad.
Both the UGC/VTEC recognized programmes not only offer, an excellent opportunity for the highly motivated but also provide a great path for those students who only have GCE O/L qualifications and are intending to continue their higher education. The college's international partners include IAM - UK, ABE - UK, London College of Management and Technology and City of London College, UK.
The college offers courses ranging from Management & Leisure, Psychology & Social Sciences,
Languages and Information Technology at diploma/higher diploma/degree & post graduate levels and recently introduced its "Distance Learning Programmes". More about the college can be viewed here: Error! Hyperlink reference not valid..
Mc's Mission is, to produce multitude of professional and skilled personnel, who are not only successful in their chosen field but also are active participants in making this world a better place to live in, for all.
And as its vision, it has chosen to be a pioneer in the educational filed in providing a new model of organizing, managing and financing of higher education whilst integrating modern learning and distance education through approaches of electronic and multi-media. And with the achievement of the new partnership, Metropolitan College has strongly cemented its position as outstanding college that really does serve the students and the parents and the society at large, in Sri Lanka… a leader in its own right, and the best among its competitors.