Read the following:
1. Reading is difficult
2.You must not use your finger to read
3.Read one word at a time
4.You can understand more, reading slowly
How many of the above four statements are accurate? In fact all four statements are not accurate.
These are the
accurate beliefs:
1.Reading is easy
2.Using your finger makes reading easy
3 read many words at a time
4.You can read very fast and understand.
Knowing the above facts and believing them help you read fast.
Repeat the following sentences three times. "Reading is easy - The finger is used in reading - I can read many words at a time- I can read fast and understand well"
Following the steps below will help you Read Fast.
Find the benefit of what you are about to read
relax
sit comfortably at a table
calm your mind
use your finger, pen, pencil or any other object as a guide
preview the material
read ideas, not words
Find a peaceful place. If possible, play music that encourages learning fast as special Baroque Music and Mozart Music. This will rest your mind and make it alert. Sit comfortably in a chair. Move forward in the chair and keep your feet resting, flat on the floor. Keep the book on a book stand or in a comfortable position for you to read. Close your eyes. Breathe in and out a few times.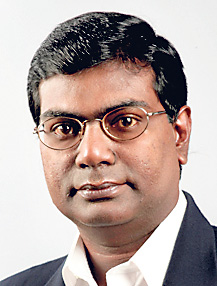 Dr. Priyanga de Zoysa
Go to a peaceful environment in your mind. See what you see. Hear what you hear and feel what you feel. Think about the calmness of your entire mind and body. If there are any parts of you that are not relaxed, ask them in your mind to relax. And get your entire mind and body to be peaceful. Open your eyes, look up, look at the book. Start reading fast.
Use your finger or a guide
Your eyes usually follow a moving object easily. By running your finger or an object over the page, you help your eyes to move very easily and very fast. Go to the beginning of the page you are reading. Keep your finger below the words and move it across the page. Move your finger at a speed a little faster than you believe you can read now. While reading like this, you may feel like stopping and checking what you just read. You may feel that you have not got the full meaning of what you just read. Whatever it is, don't stop. Keep reading.
Increasing Speed
Take a book. Divide the page into three vertical columns, left, centre, right. Now read the left segment first, then the centre and the right segment. Rather than words, read the ideas in each segment. To practise this, do the following. Look at the following.
Keep your finger below a star. Move it to a rhythm ---- 1 2 3 ---- 1 2 3 ----1 2 3 ---- or left, centre, right, left, centre, right, across the page. Move your eyes across the page to this rhythm. This is a great exercise to increase your speed of reading. Get a book with blank pages. Divide the pages into 3 segments using lines and stars as in the figure below. Practise this in about 20 pages morning and evening. Spend a few minutes going through these 30 pages using your finger, 123 --- 123 -- 123 ----- Gradually increase the speed. From now onwards, use this method when reading.
Few minutes - few days
Each day try reading a little faster than you read normally. After reading ask yourself a few questions on what you read. Be happy for reading faster than before. By simply spending a few minutes each day for a few days you are able to easily increase your reading speed. The more you practice, the more will your speed improve. Happy speed reading!